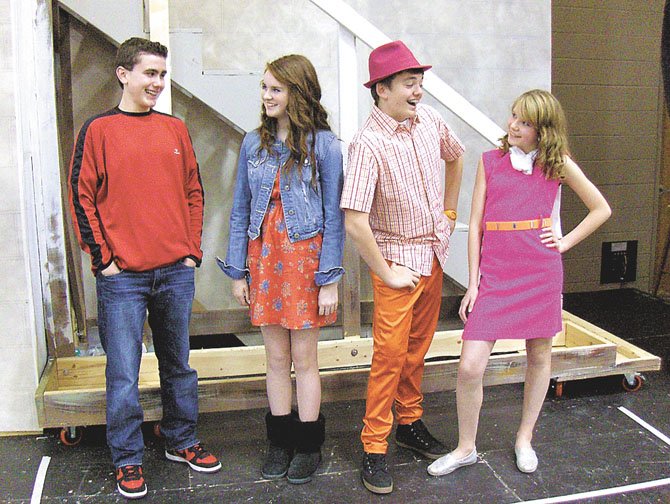 One of the most popular movies in recent years is "High School Musical," and Centreville Presbyterian Church's community theater is bringing the play to the local stage.
A junior version, featuring students in grades six through nine, will be presented Thursday-Friday, Feb. 2-3, at 7:30 p.m.; and Saturday, Feb. 4, at 4 p.m., at the church, 15450 Lee Highway. Tickets are $12 at the church office or via www.centrevillepres.com/hsm.
Directed by 2008 Westfield High grad Rachel Harrington, the play has a cast and crew of some 55 people who've been rehearsing since October. They attend Stone, Rocky Run and Liberty middle schools; Bull Run and Deer Park elementary schools, and Westfield.
"Things are going really well," said Harrington. "All the kids are really talented; everyone who auditioned, we kept. This is a fun show with lots of upbeat music and entertaining characters. It's something the whole, entire family can enjoy."
Jonathan Blank is the music director, and Westfield senior Colby Dezelick is the choreographer. As for the set, "It's the biggest we've had for a middle-school show, which is very exciting," said Harrington. "It's mostly the interior of a high school with stairwells and balconies."
The story's about various cliques in high school and how they function. This school is divided into the Jocks, Brainiacs, Thespians and Skater Dudes.
"Their school is putting on a musical, and that's where the conflict comes in," said Stone Middle eighth-grader Embrey Grimes. "My character, Ryan, and his sister, Sharpay, rule the Thespians. And when Troy, the main Jock, meets Brainiac Gabriella, they both audition for the show."
Grimes called Ryan his sister's "lap dog," who follows her around and does what she tells him to do. But, he said, "He eventually gets tired of it and wants to take control of his own life and do what he thinks is right. He's a good dancer and is outgoing, but controlled, so he can't spread his wings."
Enjoying his role, Grimes said he gets to do whatever he wants with this character and he likes Ryan's loud, stylish clothes. "All the songs I do are fun and energetic," he said. "My favorite is 'Bop to the Top.' It's a group number, but Sharpay and I sing most of it. It's the show's climax, when the musical's callbacks, the school's basketball championship and the science decathlon are all going on at the same time."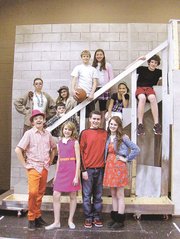 Since "High School Musical" is so popular, said Grimes, "Kids from elementary through high school will know all the songs and be able to sing along. They'll know the dances, too. And the show will take older audience members back to high school and what it was like for them."
Westfield freshman Johnny Pace portrays Troy, East High School's star basketball player. "Everybody looks to him to lead the team to victory in the championship," said Pace. "But while on vacation he discovers singing and — despite what everyone else says — he decides to audition for the musical. He's not afraid to try new things and he's firm in his beliefs and true to his friends."
Also delighted with his part, Pace likes his character's songs and the experiences he has throughout the play. "It's my first starring role, and Troy has to be serious and show love," said Pace. "In the past, I've played comedic roles, so this is a nice change."
He especially likes the number, "Get Your Head in the Game," which his sings. "It's an energetic, fast-paced and wonderfully choreographed song that I think will be an audience favorite," he said. "The audience will appreciate how lively and upbeat the whole show is, and they'll like seeing familiar songs come to life on stage."
Playing Sharpay is Rocky Run eighth-grader Kristen Popham. "She's very sassy and likes to be the center of attention at all times," said Popham. "She also wants her brother to do everything for her. She's a thespian and believes she has her own spotlight wherever she is, as if she has her own stage. I love it; people don't see me as playing someone sassy and mean, so it's nice to try something different."
But, added Popham, "Sharpay's not really mean – she's just so caught up in herself and her own performance. You can't overdo her; she's so out there that the sky's the limit when playing her." Popham's favorite tune is "What I've been Looking For." Ryan and Sharpay sing this love song for their audition. But because of Sharpay's personality, they make it fast and jazzy.
Popham said audiences will like the fact that "kids from all over the community have created a show that's fun to watch and is for a good cause. The ticket money is contributed to the church to help kids go on mission trips."
Westfield freshman Samantha Dempsey portrays Gabriella Montez. "Gabriella's an intelligent, shy girl who has a hard time making friends," said Dempsey. "She's in the Brainiacs — the smart kids — and joins the science decathlon team. She's a sweet girl with nice friends, and she gets a crush on Troy the first time she meets him."
"I really enjoy portraying her," continued Dempsey. "She's more like me in real life; I make friends easily. I also like playing a lead and making friends with the cast. It's a lot of fun and worth doing all the work, and the cast is great."
She especially likes the song, "Start of Something New," which Gabriella sings with Troy at a karaoke contest, during their first encounter. "It's a beautiful song with a great tune, and I love the lyrics," she said. "Johnny and I have fun doing it."
Dempsey said the audience will enjoy the show's humor and "the set will be amazing — it'll look really cool. They'll also like the message to follow your dreams and don't stop doing what you love, no matter what your friends say; follow your heart."
Harrington said the play wouldn't be possible without all the parent volunteers. "They've done everything from building the set and painting backdrops to doing crowd control during rehearsals," she said. "And they'll also be working hard, the week of the show, so I really appreciate all their help. The thing I love best about theater is the beauty of the community coming together to create something amazing."