Receiving praise for her exceptional accomplishments as a Sully District police officer, PFC Lauretta Garrett was honored recently as that station's Officer of the Quarter.
She was selected by the Sully District Station's Citizens Advisory Committee, and the recognition was for the last quarter of 2011. Sully police 2nd Lt. Timothy Burgess wrote the letter nominating her.
In it, he commended Garrett for her "ongoing efforts of law enforcement at the Sully District Police Station, her commitment to strong work ethics and her outstanding progress in the reduction of outstanding arrest warrants."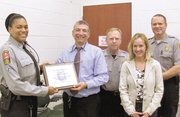 Noting that the Fairfax County Police Department has a full-time squad whose main job is serving warrants, Burgess wrote that the officers on it spend much of their time searching for difficult-to-find offenders.
That being the case, he wrote, "PFC Garrett recognized that they're unable to singlehandedly serve all the arrest warrants issued in Fairfax County. The police department relies on patrol officers to serve warrants during their routine duties; but oftentimes, calls for service greatly reduce the amount of time allocated to serve warrants. The workload is made even more arduous by incoming warrants from other jurisdictions."


So Garrett stepped in and personally served more than 100 warrants in 2011. Moreover, she served more warrants than any other officer in the police department — including those assigned to the warrant squad. And she did it while continuing to handle calls in her patrol area.
"She has protected the citizens of Fairfax County by taking offenders off the street," wrote Burgess. "In fact, most of the 100 offenders she arrested were taken out of the Sully District."
Therefore, he concluded, "She is well-deserving of this special recognition. I commend PFC Lauretta Garrett for a job well done and proudly nominate her for the Citizens Advisory Committee award."
During that award's presentation, Capt. Purvis Dawson, commander of the Sully District Station, added his congratulations, as well. Reading a memo he'd written to Garrett, Dawson told her, "You're an officer who wants to make a difference, and you have."
Describing her as a person with compassion, a positive outlook and zeal, he said, "You've set a standard for others to emulate. Each day you pin on your badge, you make Fairfax County a better place."