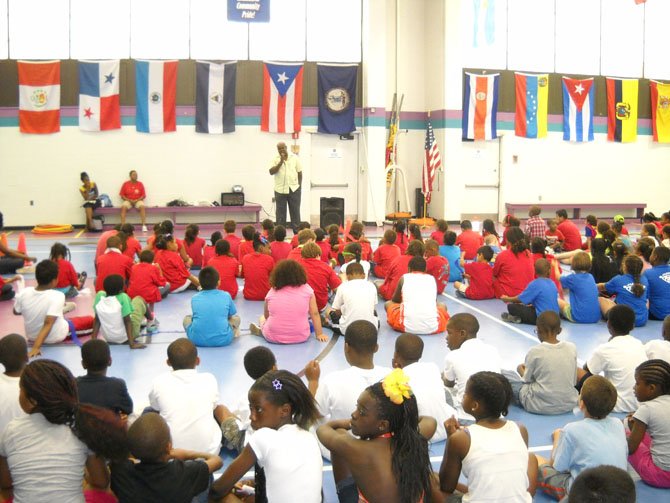 The spirit of Olympics was alive and thriving in the Department of Recreation, Parks and Cultural Activities in June with the Olympic Day Celebration.
On June 22, at the Lee Center, not even the heat beat our spirits down, but we did have to implement our Plan B due to the heat advisory and take a number of activities indoors. The department was chosen from thousands of proposals to participate in Olympic Day nationwide.
The official Olympic Committee works with us to make sure that we have access to past and present Olympians and have all of the tools needed to make the event an informative, fun and entertaining community event. This year's visiting Olympian was Osman Orlando, who participated in two Olympics Games.
Orlando played for the Black Stars, Ghana National Soccer Team, qualified in the 1968 in Munich, Germany and 1972 in Mexico City, Mexico. He played professionally for the American Soccer League for the Ohio Comets. Orlando has coached at all levels from Little League to the college. The children were attentive and showed their appreciative. There was pin drop silence in the gymnasium as Olympian Orlando described his experiences and shared the historic context of Olympics of 1968 with the expression of African Americans lifting their fists for equality.
As is the norm, I would like to thank all of the recreation professionals that made this event a success from senior management to each participating center. James Spengler (Director of Department), William Chesley (Deputy Director), David Miller (Division Chief), Jamie Aylor, Jackie Person (TR Director), Margaret Orlando (Recreation Manager), Senai Beyen, Tamika Coleman, Barbara Farrington (Regional Director), Rodney Bates, Iesha Ressurreccion, Venor "Tony" Biggs, Kendall Hermsdorf, Bryan Williams (Director of Patrick Henry) and staff (Ms. Kesha), Charles Houston (Ms. Sonya), Kendra Belk (Ramsay), Mr. Travis (Lee), Ms. Sheba (Cora Kelly), Lyndon Murray (Regional Director), Harold Little (Regional Director), Sheila Whiting (Regional Director), Elsie Akinbobola (Director of Mt. Vernon), Ms. Gertrude (Barrett), Ms. LaTesha (Barrett) and Ms. Shenika (Lee).