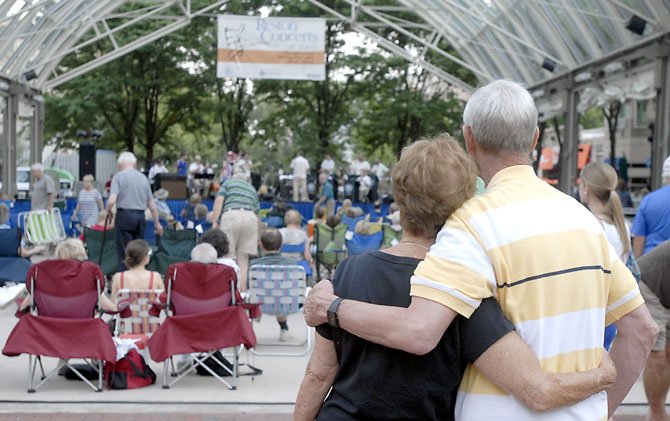 Reston Summer Concerts
Saturdays, June - August, 7:30—10 p.m., rain or shine. Reston Town Center Pavilion. Call 703 - 912 - 4062 for more concert information. Upcoming Concerts for Summer 2012:
*July
14 - Jukebox Revue: the Originals
The Legendary Orioles; The Jewels; The Memories - Best of Doo-wop & Motown
21 - Jambalaya on the Bayou
C.J. Chenier & the Red Hot Louisiana Band - Zydeco, high-energy blues
28 - Global Grooves
Incendio - Spanish guitar, flamenco, Latin fusion
*August
4 - In the Mood
Airmen of Note - U.S. Air Force jazz band [No dance floor tonight]
11 - Salsa Caliente
EC3 & Friends - Salsa, merengue, Afro-Cuban
18 - Rio Comes to Reston
Beleza - Samba, Bossa Nova, Latin jazz
25 - A Swingin' Great Time
Big Joe & the Dynaflows - New Orleans-style swing, jump blues
Every Saturday, as the sun sets, Virginians come together for a different musical act at the Reston Town Center: They set up their lawn chairs and spread Tupperware picnics around the streets and sidewalks surrounding the glass domed pavilion that hosts Summer Concerts Series.
The Saturday shows are commonly playing a medley of jazz, blues, and swing, populated by a cheerful throng of neighbors who travel from all around the state to enjoy the upbeat mood Reston's town center offers. With a dance floor at the foot of the stage, and plenty of space for seating, heat or chill, rain or shine, the concerts begin at 7:30 p.m. and last until 10, enough time to dine at one of many restaurants before picking up dessert as the show begins.