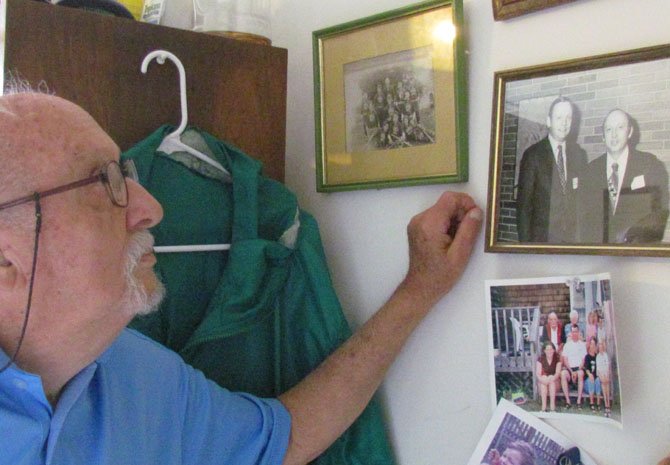 Bob Cromwell, a former metallurgical engineer for the Apollo Program Office at NASA headquarters, remembers the reactions of his colleagues after the first lunar landing which occurred almost 43 years ago on July 20, 1969.
"Everyone was tremendously proud," said Cromwell, who assisted in managing safety, reliability, and quality surveys and administered annual audits at the Johnson Space Center (Houston), the Marshall Space Flight Center (Huntsville, Ala.), and the Kennedy Space Center (Cape Canaveral, Fla.). "We had to have faith that it was going to go well," said Cromwell.
One of Cromwell's favorite memories from the activity surrounding the momentous event involves a chance meeting with Neil Armstrong just after the lunar landing. Having been asked to represent the NASA headquarters at a conference on Long Island, Cromwell later realized Armstrong was also speaking at the event. To this day, Cromwell keeps a treasured photo of himself with Armstrong taken at that event in his home at Greenspring retirement community in Springfield.
Cromwell still attends annual NASA luncheons and speaks with great satisfaction in having been involved in the historic Apollo program. "It sure made my mother proud," said Cromwell, who proudly displays an article from 1969 citing his involvement in the NASA program from his hometown newspaper, the Amherst News-Times.
Cromwell was born in Amherst, Ohio, and was commissioned into the U.S. Navy in 1943. While in the Navy, Cromwell participated in a variety of duties from ordinance storage to air operations to graves registration in several locations from Hawaii to the Caroline Islands to the Gilbert Islands. After leaving the Navy in 1946, Cromwell lived in Massachusetts until relocating to the Washington, D.C. area for the position at NASA in 1962, where he worked until retirement in 1977. He continued to live in Fairfax, Va., for 40 years until 2002 when he and his wife Ginny moved to Greenspring.