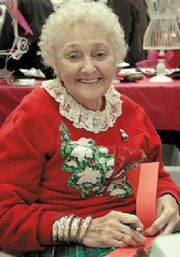 Marian E. Nowland, 81, died on July 5, 2012. She is survived by her loving family and friends. Born and raised in Alexandria and a life-time member of St. Mary's Catholic Church in Alexandria, Marian was an active member until her last day. She was also a 30-year member of the Catholic Daughters of the Americas, with her highest serving position as Virginia State Court Regent.
Marian's professional career spanned more than three decades of service in the U. S. Department of Defense. In the 1960's Marian was secretary to the Special Assistant for Arms Control, and served in Geneva, Switzerland in 1961 as secretary to the United States delegation to the United Nations-sponsored Eighteen Nation Committee on Disarmament. She then served as dynamic and treasured secretary to several Assistant Secretaries of Defense for Health Affairs, until her retirement in the late 1980s. Throughout her tenure at the Pentagon, Marian was known for her skills in managing complex schedules and initiatives, her generous spirit in dealing with executives and senior military personnel at all levels of the Department of Defense, her confident dealings with international partners, and loyalty to the military personnel. Following her retirement from the Pentagon, Marian worked in the Virginia Department of Motor Vehicles where she delighted in helping customers with vehicle registration and licensing concerns.
A prayer service will be held at St. Mary's Catholic Church, 310 South Royal Street, Alexandria, on Monday, July 23, at 7:30 p.m. Mass of Christian Burial will be offered at St. Mary's Catholic Church on Tuesday, July 24, at 10:30 a.m. Reception will follow immediately after Mass at St. Mary's Lyceum. Internment at Mount Comfort Cemetery, Alexandria. In lieu of flowers, contributions may be sent to St. Jude Children's Research Hospital, 262 Danny Thomas Place, Memphis, TN 38105. Funeral arrangements are in the care of Everly-Wheatley Funeral Home, Alexandria.