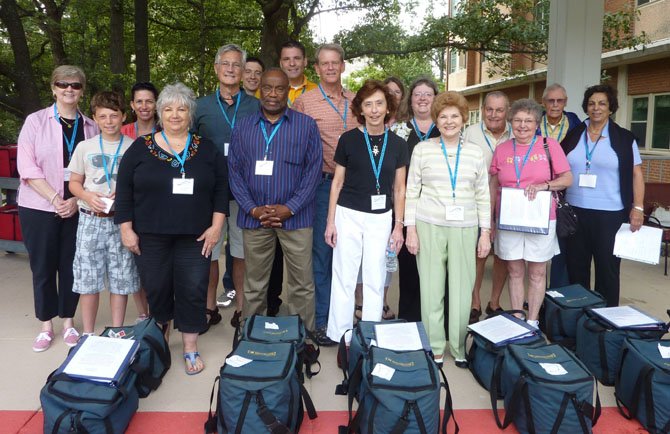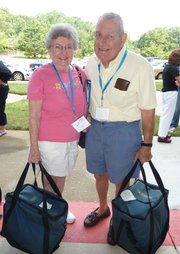 It's a labor of love for Nancy and Buzzie Harris, who for the last year and a half have been delivering Meals on Wheels to homebound seniors as volunteers for Senior Services of Alexandria.
"We love it," said Nancy Harris as the couple gathered July 14 at the Hermitage to pick up meals and begin their delivery route. "The people are so happy to see us. They are so grateful for this food."
The program, in existence in Alexandria for 20 years, has been operated by SSA for nine years. Thanks to a recent grant from Alexandria Yellow Cab, Meals on Wheels expanded its service July 14 to include the delivery of meals on Saturdays.
"Janet told us about the need," said Alexandria Yellow Cab owner Spencer Kimball of SSA Executive Director Janet Barnett. "She took me out to deliver meals so that I could see the need and interact and get to know those we are serving."
Kimball, whose company provides transportation services as part of the Senior Taxi program, feels strongly about the Meals on Wheels program.
"My parents owned nursing homes so senior causes are near and dear to my heart," Kimball said. "This program is vital to so many seniors and is something we at Yellow Cab feel strongly and passionately about."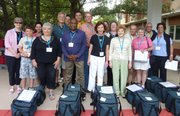 Beginning in the fall of 2012, seniors will receive Sunday meals as well, a result of funding allocated by the Alexandria City Council.
"This is a great project," said Vice Mayor Kerry Donley. "It shows how volunteer, private and public resources can work together to expand and augment a service that has served the city for decades."
A part of the city's Division of Aging and Adult Services, Alexandria's Meals on Wheels program is the only one in the state that offers home-delivered meals on weekends.
"Senior Services of Alexandria has been at the heart of the Meals on Wheels program," said Barnett, who has headed SSA for six years. "The relationships which SSA has forged proves that everyone needs to work together to meet the needs of senior citizens in Alexandria. Working with the city, the Ron Bradley Foundation, Alexandria Yellow Cab, the Rotary Club and hundreds of volunteers has resulted in homebound seniors receiving meals nearly seven days a week. These kinds of relationships need to continue and grow. It's the right thing to do and we can do it."
The Meals on Wheels program currently provides close to 100 meals to homebound seniors.
"This is a wonderful partnership between the city and Alexandria Yellow Cab." Barnett said. "We are also grateful that Sunday meals will begin in October and we continuously work to find new donors, supporters and volunteers to work with us to enrich the lives of our homebound seniors with nourishment."
For more information on Senior Services of Alexandria or the Meals on Wheels program, call 703-836-4414 or visit www.seniorservicesalex.org.