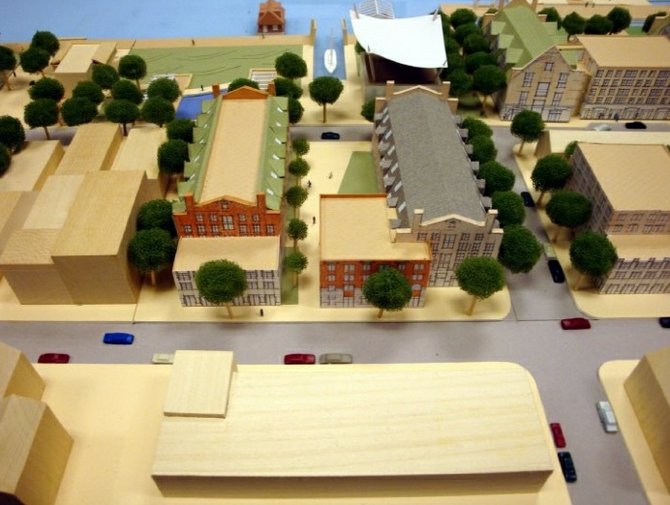 One of the ghosts haunting the Alexandria waterfront is Samuel Cummings, international arms dealer who owned a warehouse now at the center of a controversial redevelopment proposal. Cummings was the founder of Interarms, a company that shipped weapons across the globe that ended up in various sides of civil wars from Africa to South America. City Archeologist Pam Cressey recalls meeting with him to discuss a possible firearms museum in Old Town to display his collection.
"He was a dealer in arms," said Cressey, adding that he had a reputation for selling to both sides of an armed conflict. "So he wasn't involved in the politics or the morality of it. He saw it as a business."
Now his old warehouse is at the center of another war, an ongoing conflict over the future of Alexandria's waterfront. On one side are planning officials and elected Democrats who want increased density and hotels on the waterfront. On the other side are Old Town residents and elected Republicans who are concerned about increased traffic and parking problems that could be created by a large-scale redevelopment. At issue is a proposal from Washington-based Carr Hospitality to build a hotel at the density that is currently being challenged in court.
"It's not the way I would prefer to see things," said Mindy Lyle, a member of the waterfront work group. "But because there's such a fight over the zoning I can understand their not waiting."
BACK IN OCTOBER, Carr Hospitality appeared before the work session and outlined plans to open a Hotel Indigo, one of the company's key brands. Now the company has taken the next step by submitting a concept plan to the Old Town Board of Zoning Appeals. Although the item was originally placed on the docket for a vote, City Attorney James Banks says the matter has now been moved to a special work session where members of the public can voice any concerns they have with the proposal.
"One of the criticisms we heard from the community is that people don't feel they had an opportunity to kick the tires," said Banks. "So we're not going to process the application right now. We're going to listen."
Some have expressed concern over the Hotel Indigo brand. Others have criticized city leaders for considering a hotel at all, considering that the current zoning does not allow one. Waterfront work group member Bert Ely says he would like to see the application put on hold until the legal challenges to the waterfront plan have been resolved.
"What they are proposing and what people have an issue with, is the physical structure," said Ely. "Whether it's called an Indigo or Madame Bouvier's whorehouse, it doesn't make any difference."