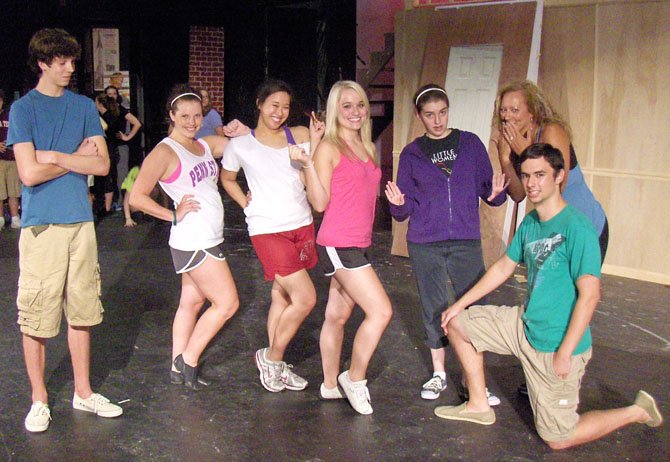 Centreville — Scott Olson has been a director and actor for 20 years, but he says the cast of The Alliance Theatre's "Legally Blonde, the Musical" is something special.
"They're the most talented bunch of people I've ever met," he said. 
"They pick up this stuff like a sponge and they're doing an incredible job."
Featuring a cast and crew of nearly 100 — plus two dogs — the show runs July 27-Aug. 5 at Chantilly High. Some 15-20 of the actors are adults, and the rest are students from Centreville, Chantilly and Westfield high schools, plus Rocky Run Middle.
"The music is infectious — you can't stop tapping your toes to it," said Director Olson. "And you just want to watch the actors do those numbers because they're so huge and full of energy."
Nancy MacArthur Smith directs the singers and 15-piece orchestra, and Melanie Marie Gibson is the choreographer. Chantilly grads Maggie Monk and Chris Albrigo, currently studying theater at VCU and NYU, respectively, mentored the newest actors in workshops on makeup, movement, costumes, voice, etc.
"It's a fun show, and the audience will love the story and songs," said Producer Maggie Swan. "The voices are fabulous, and we also have a couple plot surprises."
Playing the lead role of Elle is 2009 Westfield grad Taylin Frame, now a senior studying vocal performance at Olivet Nazarene University in Illinois. "Elle's president of her sorority in college and is like a Malibu Barbie; she's everything girls dream of," said Frame. "She's dating Warner but, instead of proposing, he breaks up with her because she's not 'serious enough' for him."
Shocked, Elle follows him to Harvard law school to disprove him and get him back. "But she's intelligent and finally comes to love herself, find her way through life and find her true self," said Frame. "It's one of my dream roles; I connect with her, knowing the heartbreak of breakups, and I realize it sometimes takes something like that to help you realize what you really want in life."
Frame's favorite song is "So Much Better" because "that's when Elle realizes she can be so much better than what others think she can be." She said families will like this entertaining show because the upbeat music will make them want to dance and "it has a good message, to stay true to yourself."
Chantilly senior Gray O'Reilly portrays Emmett, who mentors Elle in law school. "At first, he's scruffy," said O'Reilly. "He was raised in the slums and is focused on becoming a lawyer. But he takes Elle under his wing and gives her part of his drive to help her get through law school and life."
Delighted with a leading role, he says Emmett's similar to him and he looks forward to rehearsals and working with this cast. He especially likes the song, "Chip on Your Shoulder," which Emmett sings with Elle. "It shows their relationship and friendship blooming within that song," said O'Reilly.
A member of Chantilly's Touch of Class Show Choir, he called the music "fantastic. And the characters have such terrific lines and complex relationships. This show's also got humor and lots of emotion — the whole shebang."
Playing Warner's Harvard girlfriend, Vivian Kensington, is Chantilly junior Amanda Mason. "She's Elle's polar opposite — haughty, book-smart and rich, but intimidated by Elle's girliness," said Mason. "It's fun being mean because I get to be a completely different person on stage. It feels empowering playing Vivian because she's so strong and confident."
Mason's favorite number is "Legally Blonde Remix" because "it's the first time Vivian shows another side of her. It's a huge, ensemble number with 52 people and even an Irish dance in it — it's awesome." She said the audience will like the show's energy and intense song-and-dance numbers. "It gets you excited to be there," said Mason. "They'll also like the message, 'Don't judge a book by its cover.'"
Cathy Arnold, of Chantilly's Franklin Glen community, portrays Paulette, owner of the hair salon Elle frequents. "Paulette has low self-esteem because she's been pushed around by her ex," said Arnold. "But she's sweet and lovable and, as she and Elle become good friends, Elle helps her gain some self-respect."
She loves her part because Paulette has a Boston accent — "which is a challenge for the Southern, Georgia peach in me," said Arnold. "Paulette's down-to-earth and tells it like it is, and she's sassy. Arnold likes the song, "Ireland," best because "Paulette's telling Elle her life story, and you get a feel for what Paulette's looking for in life."
Arnold said the audience will love how this show turns out. "There's a lot of great new talent, and it's an overall, feel-good musical," she said. "Everyone will be cheering on the leads at the end and will be happy for them."
The action takes place on the UCLA campus, a golf course and at a restaurant, but mainly in the courtroom, Elle's Harvard dorm room and the hair salon.
"People should come prepared to enjoy themselves," said Olson. "The story's strong moral encompasses today's issues, such as bullying, sexual orientation, East vs. West coasts, and rich vs. poor. It says, it doesn't matter who you are, you're a human being, first and foremost. You can do anything you put your mind to — and that's really important in this day and age."