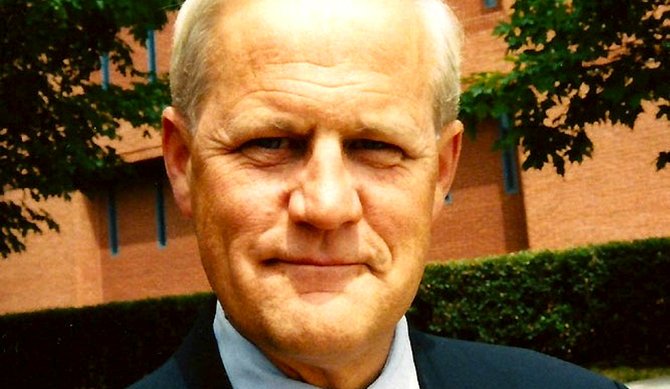 James Herbert Dunning, the once popular sheriff who became increasingly reclusive after the mysterious 2003 murder of his wife, died last week at his home in Hilton Head, S.C. A South Carolina coroner's office is still awaiting the results of an autopsy, although he told the Associated Press that there was "nothing suspicious" about his death. He was 62.
"We haven't sent anyone to Hilton Head," said Ashley Hildebrandt, spokeswoman for the Alexandria Police Department. "I don't know if there are any plans to send anyone."
In response to follow-up questions, Hildebrandt declined to answer because the murder of Nancy Dunning is "an active and open investigation." For many friends and associates, the death of the longtime sheriff is a disturbing reminder of the many unanswered questions in the death of his wife. After her death, Dunning was rarely seen in public during the final years of his term.
"Toward the end, he was sheriff in absentia," said Mayor Bill Euille. "But I think it's important to remember his legacy of trying to do something about the recidivism rate, which he fought hard to reduce."
DUNNING WAS ELECTED in 1985 after a campaign in which he accused incumbent Republican Sheriff Michael Norris of providing insufficient security at the jail. The first few months of his tenure proved to be difficult for the 35-year-old sheriff. A prisoner wearing leg irons managed to slip out of a holding cell at the courthouse. Then a Maryland woman accused of a misdemeanor spent a weekend in a holding cell because a deputy sheriff forgot to release her.
"When I took this job, the Sheriff's Office was in disarray," Dunning said in a 2005 interview toward the end of his term. "Turnover among the sworn professional ranks exceeded 20 percent annually. I immediately endeavored to work with the city and the City Council to address this quiet crisis."
In 1989, he beat Republican challenger John Kochensparger — winning every precinct. That landslide victory was an indication of his popularity and ability to build coalitions. Much of that success was because of the partnership with his wife, who was viewed by many as the "mayor of Del Ray." But Jim Dunning also had a droll sense of humor and an ability to charm. During a City Council meeting in 1987, Dunning said he was reluctant to announce the date the city's new jail would open because the inmates "are great fans" of the televised council meetings
"Hi, guys," he said, grinning at the camera.
During his years in office, Sheriff Dunning worked hard to achieve pay parity for sheriff's deputies — raising their salaries to be closer to police officers. He also advocated for diversion programs to keep people out of the jails, sometimes clashing with judges when they had a difference of opinion about how the criminal justice system should work. Political supporters say that the longtime sheriff could be strong advocate when he needed to be.
"He was fierce in his desire to maintain the constitutional authority of his office," said former Councilman Lonnie Rich, who managed Dunning's first campaign in 1985. "He did not want to be treated as another department head."
OVER THE YEARS, Dunning became increasingly reclusive. He allowed his undersheriffs and chief deputies to handle much of the responsibility of the office, and the sheriff was hardly ever seen in public. In one rare and memorable appearance during his last few months in office, Dunning endorsed Republican candidate Bill Cleveland — a shock to many Democrats who were supporting Dana Lawhorne. When asked why he wasn't supporting Lawhorne, Dunning declined to elaborate.
"I'm not comparing the candidates," he said. "I'll let the people do that."
Voters chose Lawhorne, who became an active public face in the community. Meanwhile, the cloud of Nancy Dunning's murder continued to linger over the former sheriff. Over the years, police officials have indicated that she was targeted. But no arrests were ever made in the case, which has now grown cold.
"The tragedy is that he lived with this hanging over his head, which is why he moved to South Carolina," said Rich.