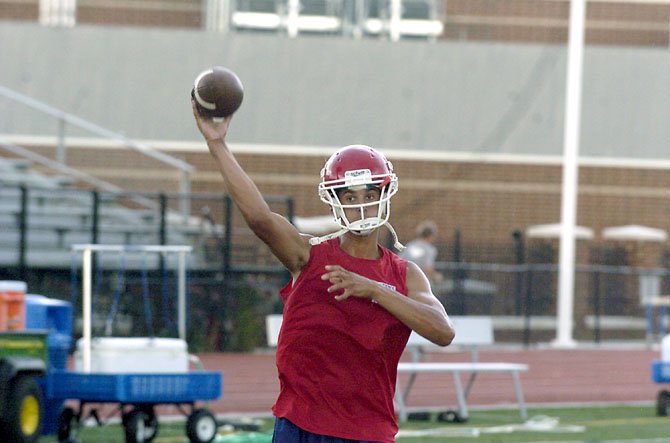 Alexandria — The start of high school football season is less than a month away. While players have to wait before putting on the pads, T.C. Williams athletes on Tuesday were making the most of an opportunity to work with coaches and polish their individual skills.
TC football coaches and players took part in their first of seven "green" practices on July 10 at Parker-Gray Stadium. "Green" days are part of the Virginia High School League's offseason policy passed last season which allows coaches and players to work together in a non-team-oriented fashion. Each sport has seven days in the summer and 12 days in each non-scheduled season (fall sports get 12 days in the winter and spring) where players can work with coaches to improve individual skills. Small group work is allowed, but team drills — such as playing 11-on-11 football or 5-on-5 full-court basketball — are forbidden. The practices must be open to everyone in that particular school and must be advertised.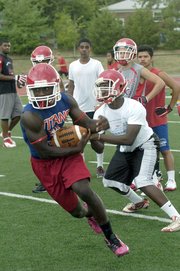 The policy includes "red" days, which forbid offseason contact with coaches 10 days after the first practice of an in-season sport. There is also a summer dead period of one week after the start the VHSL calendar. This year, it was July 1-7.
TC head coach Dennis Randolph, who missed the final six games of the 2011 season due to health issues, said he is "unequivocally" in favor of what "green" days offer to coaches and athletes.
"I'm just glad that they don't let you go out in shoulder pads. Some coaches get carried away and want to hit and it's not about that," Randolph said. "It's about teaching individual skills … and putting in a little bit of your offense and a little bit of your defense and some 7 on 7."
Randolph said the Titans will use two "green" days per week — Tuesdays and Thursdays — for three weeks and use the final day on a Wednesday prior to the start of the season.
Rising senior quarterback Alec Grosser said he used the time to work on his technique.
"It's good to get out here twice a week," he said, "and work mechanics and reps with the receivers."
Rising senior receiver Landon Moss, who played high school football for the first time last season, said he is ready for a more productive season.
"I feel like I can contribute more," said Moss, a college prospect. "I've got my technique down [from] working in the offseason with coaches. I feel it's going to be a better year."
Some of the Titans have been hard at work in the weight room and at camps for several months. Rising senior running back Dealo Robertson said part of being a leader is setting an example.
"When you step up and make big plays in the offseason, I think it translates to the season," Robertson said. "… [Being a leader is] hard. It's a lot of responsibility. You're not in the back of the line anymore. You're in the front of the line — you've got to demonstrate in the line. You've got to let the younger guys know what it takes to make it on the varsity level."
The TC football program hasn't made the playoffs in 21 years. While the Titans are working hard in the offseason, Grosser, who enters his third season as the team's starting signal caller, said he tries not to think about snapping a postseason drought of more than two decades.
"Just don't even think about it at all," he said. "Just go out, have fun, work hard and play football. Don't think about the records, don't think about playoffs — just don't think about it."
Moss had a different take.
"We're making the playoffs this year," he said.