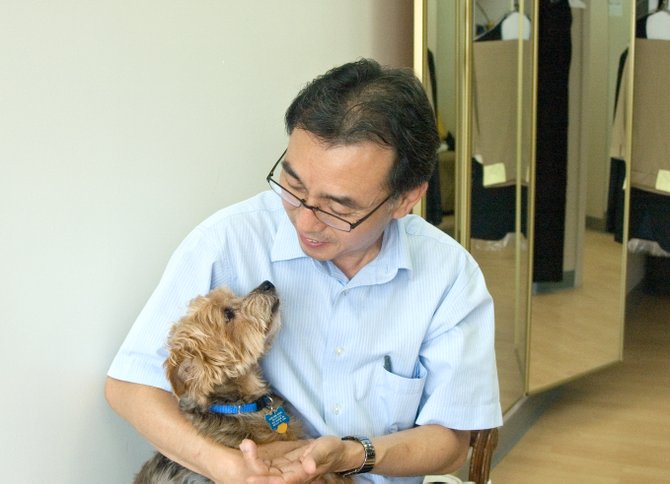 At Kim's Tailor shop in Great Falls Village Center, clients are greeted not only by Deuk Kim, but by his friendly Yorkie, Mash. Mash has been accompanying Kim and his wife Soon to work every day since he was two-months-old—and according to Kim, "by now all Great Falls residents seem to know him."
Mash is named after the famous television show by the same name, and was originally a graduation gift for the Kims' daughter. But after she left for school in California, Mash stayed with the family.
Kim says that his favorite thing about Mash is how smart and well-trained he is. Mash has even learned to let himself out to use the bathroom while his owners work with clients. "He just goes around the corner and comes right back, all by himself," he said.
However, three years ago this trick got Mash into trouble. One day, Mash wandered outside—without a collar—to use the bathroom. Thinking that he was a stray dog, a woman picked him up at the Shell gas station behind the shop. After reporting a missing dog to the Fairfax Animal Shelter, she took him home with her to Manassas. "She wasn't a Great Falls resident, so she didn't recognize him as the Kim's Tailor dog," said Kim.
After a panicked evening, the Kims eventually contacted the Fairfax shelter and promptly drove to Manassas to get their beloved dog. "We thought that we had lost him," said Kim. "Fortunately, the woman who found him took good care of him."
At nine pounds, most would assume Mash to be a puppy—and clients are always astonished when Kim tells them that Mash is actually twelve years old. "We check him three or four times a year, and he's very healthy for his age," said Kim.
Mash has certainly become well-known in the Great Falls community, and residents stop by the shop often to give him a pat on the head.


AFTER TAKING A FEW STEPS into the Pans' backyard, you start to hear the clucking from the red and white coop. Along with Scarlett, a German short-haired pointer, and Tommy, a turtle that was discovered in their pool, this family has four pet chickens.
The Pans got their first chicken—a hen named Lady—six years ago from a hatching project at St. Francis church. When it was announced that the chick needed a permanent home, the Pans decided to volunteer. "After that, we just started adding," said Wendy Pan.
Next came Lady Two, Junior, and a rooster named Jabberwocky. "He was huge, and when he was out of the coop he would chase me and my brothers around our yard," said son Garret.
At that point, the Pans built a coop for their chickens. Complete with a solar heater to keep the birds warm in the winter, the structure provides protection from foxes and dogs that might otherwise attack. However, the chickens are allowed to wander around the yard—as long as Scarlett is inside.
Just like with any other pet, the Pans provide the chickens with fresh food and water every day, and Wendy Pan regularly collects the eggs from the coop. "Sometimes our friends bring us empty egg cartons and ask us to fill them," she said.
While chickens may seem like unconventional pets, Gary Pan says that most local families are intrigued. "But when I tell people who live outside of Great Falls, they're much more surprised," he said. "I think it shows that our community still has a rural feeling."
Although the Pans now refer to the birds collectively as "chickens," they still consider them pets. "I grew up on a farm, so I like having them around," said Wendy Pan. So far, the family has had almost twenty chickens, and plans continue adding them in the future.


DURING THE POWER OUTAGES that swept through the area in early July, the Patil family's miniature poodle, Pluto, proved himself a hero. The lamps lining their backyard had been off for five days due to the outages, and leaves had started to collect around them. Little to the family's knowledge, when the power returned the leaves caught fire and started to smoke.
"Pluto was running around and barking, so we finally came outside to see what was wrong," said Raj Patil. "We put it out in time, but it could have spread to the house if it weren't for him."
In addition to Pluto, who is almost three, six-year-old Goofy, a cocker spaniel and poodle mix, is also beloved by the Patils. This is the third dog named Goofy that the Patils have had; the first was a shih tzu that they adopted while living in Utah, and after moving to Virginia, said Sangita Patil, "we wanted to keep the tradition going."
Both dogs are walked three times a day, and their favorite place to go is Great Falls Park. "We walk them, feed them. They love homemade Indian food," said Sangita. "But if you give them something store-bought, they spit it out. It's so funny."
The family describes the dogs as loving, and daughter Radika notes that even after so many years, "they're always so excited when one of us comes home."
While Goofy is welcoming towards houseguests, Pluto—despite his stature—acts as the Patils guard dog. "He tries to protect us from everyone," said Sangita.
And even Goofy has caused trouble in the house. "Goofy has chewed up two of my retainers, two pairs of glasses, two iPods, and my driver's education booklet," said son Neil. "He even stole four twenty dollar bills out of someone's purse once and just walked off. Another time, he really did eat my homework."


TO FIFTEEN-YEAR-OLD Lily Barber, Shine is more than a pet; she's a teammate. The pair frequently competes in horse shows around the area, although Barber says that she values Shine for much more than her dressage and jumping abilities. "She has real personality," said Barber. "She's sweet, but I've seen her be sassy sometimes."
Barber has had Shine for two years now, and the duo met for the first time at a horse show. The Barber family was looking at several horses, but after riding Shine for a few minutes Barber says that she knew it was the perfect match. "I just had to convince my parents," she said.
Now, Barber boards her horse at Stony Ridge Farm in Manassas, but still manages to see Shine every other day. The two have lessons once a week, but Barber enjoys going on rides with her horse whenever she gets the chance. "The barn is right at the Manassas battlefield, so we like going through the trails around there," she said.
Aside from riding and competing, Barber values the other aspects of having a horse as well. She says that to have a pet like this, "you really have to love all parts of it. Mucking the stalls, grooming the horse, everything. It's more work than some people might think."
However, Barber sees the time commitment as worthwhile, and has developed a strong connection with her horse. "I honestly believe that she understands what I'm saying," said Barber. "I'll be talking to her, and she snickers back to me."


LAST FALL, Loretta Arey found herself locked in her tack room. Without a phone to call for help, she was finally forced to escape through the back window. Her horse, Scottie, had once again shown his aptitude for locks. "He's very smart," she said. "He locked me in the tack room, and can let himself out of his stall, too."
Despite his mischievous nature, Scottie has a special place in Arey's life. Not only is he sweet and gentle, but he is also Arey's largest horse. A cross between the Irish draft and Belgian breeds, Scottie is 17.3 hands—almost six feet tall—and fifteen hundred pounds.
Arey recalls when Scottie took advantage of his stature two years ago. "I had an injured horse that I was keeping in Scottie's stall," she said. "I came back from teaching a lesson, and Scottie had lifted the stall door off its hinges. I guess he just wanted his space back."
Arey has had Scottie for six years, and first found him on the website equine.com. After her former riding horse passed away, she had decided to find a replacement. And when it came time to name the new horse, her husband helped her come up with ideas. "My husband joked that I had to get beamed up onto his back to ride him because he's so tall," said Arey. "It reminded us of 'beam me up Scotty' from Star Trek."
In spite of Scottie's strength and size, Arey has to take special care of him in some ways. "He has 26 allergies," she said. "It's like a kid with allergies; it can be high maintenance."
Aside from Scottie, Arey has seven other horses that she uses in her riding program, 20/20 Horsesight. While she allows students to ride the others during lessons, Arey reserves Scottie for her own riding. "He's just too big for most people to ride," she said.