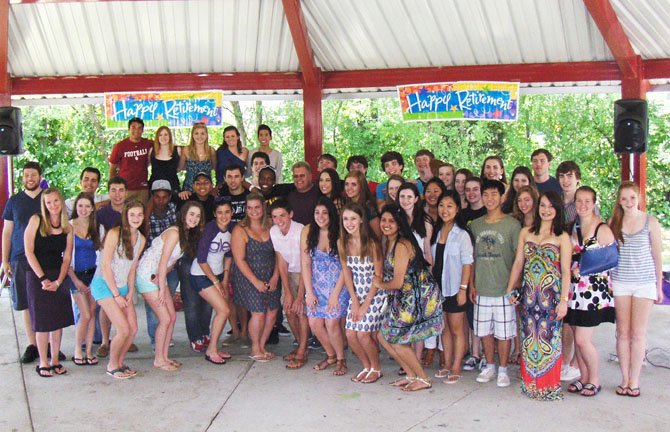 Centreville — For the past 26 years, the name Glenn Cockrell has been synonymous with Touch of Class Show Choir, Jazz & Pizzazz and all-around musical excellence at Chantilly High. So his colleagues there, plus students and parents, were sad to learn he planned to retire at the end of this school year.
But they couldn't let him go without a special sendoff and a chance to tell him how much he'd meant to them. So the day after school ended, they held a barbecue retirement party for him at the Frying Pan Park Pavilion in Herndon.
"It's hard to imagine what our choir program will become because he's such an integral part of it, arranging music and choreographing the numbers, too," said rising junior Daniel Belsky. "He's improved my singing a lot and I've gained a high level of respect for him. He also taught me to hold my head up high and I'll get that respect, too."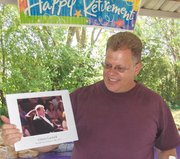 Cockrell began his career at Chantilly doing choreography for former Show Choir Director Tony Aversano. They worked as a team for 10 years until Aversano retired in 1996 and passed the baton to Cockrell. And though he's had huge success, it hasn't always been easy.
"For those of us who teach music or performing arts, you have to defend your program and curriculum every day against the core subjects and SOLs," said Cockrell. "They're important, but performing arts are important to students' education as a whole."
"You often have to recruit kids for your program to keep justifying it," he continued. "But you make them want to be in it because it's such a good product. Most of them saw someone singing on stage when they were younger and said to themselves, 'I want to do that, too.'"
When asked about his greatest accomplishments, Cockrell replied, "Every kid that ever graduated — they're why we do it, in the first place. And I've been blessed to have some longevity — not just in a program, but in a school. That 25th anniversary of Jazz & Pizzazz last year meant a lot to me. And seeing all the people who came back was more thrilling to me than anything else, because they wanted to be part of it, and it meant something to them."
He's also pleased that, in 2010-11, Chantilly's Touch of Class was named America's Favorite Show Choir by Parade Magazine. Said Cockrell: "I believe it represented all our years of Show Choir and Jazz Band."
He's done a great deal of musical writing and arranging for the Show Choir, so he has a vast array of material he'd like to get published and produced. Cockrell also plans to remain in some element of music education as a clinician or a festival judge. And those in the community who've heard his unmistakable voice narrate "The Night before Christmas" and "The Grinch" during Chantilly's annual Tiny Tots Christmas Program won't be surprised to learn he also hopes to start his own voiceover studio.
Still, he leaves the school with mixed emotions. "I'll miss it," he said. "I've been blessed with the community, kids and people I've worked with. But at the same time, it'll be good to try something else and catch my breath a bit."
Looking back, said Cockrell, the best part was "every time we got to the end of a concert or program and the kids were met by their families and friends. There was a lot of satisfaction on everybody's faces, and I especially loved seeing their enjoyment."