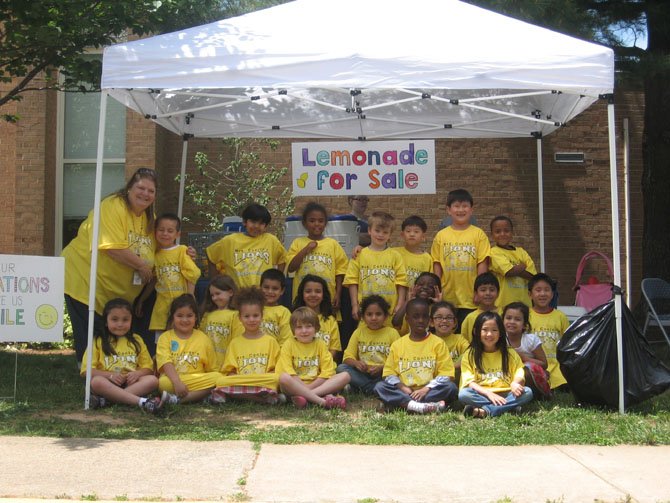 Centreville — Even the youngest children can help improve the world, and first-graders at London Towne Elementary proved that recently by raising money for an orphanage in Africa. They did so by selling lemonade, with the proceeds going to the orphanage to buy chicks.
The children did it over two days, before school ended for the summer. On a Friday, firefighters from Station 38, across the street from the school, came over and bought lemonade. The next day, the students sold it at London Towne's fun fair. Altogether, they raised nearly $640.
"It only cost 25 cents/cup, but people were very generous and many gave us donations," said their teacher, Lauren Conlon. "Our principal, Sigrid Ryberg, donated $20. And at the fun fair, children from all over the school proudly gave us their quarters because they felt like they were all part of the project. It really brought the community together."
The idea came from students Abby Martinez and Mya Vasquez. "While running laps at recess, the idea of helping orphans came to my head," said Abby, 7. "I saw a movie about orphans, and me and Mya wanted to help them because they don't have moms and dads."
In addition, Abby's mentor, Cindy Roberts, told her that she'd helped some African orphans by giving them real chicks. Conlon said the children also read several picture and chapter books about orphans and decided to help an orphanage in Zambia run by a Texas charity. For more information, see www.everyorphan.org/chicks-4-orphans/.
"It's for many children who'd lost their parents to AIDS," she said. "Ms. Roberts had done work with them before, and I researched it, as well."
"They don't have money, so we wanted to help their world," said 6-year-old Matthew Tran. "So we decided to have a lemonade stand."
Conlon said the students thought about having a car wash or bake sale. But then they read a book called 'Lemonade for Sale' and were influenced by it. Taylor Chase, 7, said they also read a book about the life cycle of baby chicks. So, he said, "We took paper cutouts of chicks and counted them to decide how many chicks we wanted to buy."
Brenda Sandoval, also 7, said she and some other students made up a hand-clapping game called "Lemonade" and entertained people with it at the lemonade stand. And a parent made and donated yellow T-shirts for the children to wear at their stand. They were each adorned with a picture of a chick drinking lemonade through a straw, plus the words, "Mrs. Conlon's Lions — We make a difference."
"What I really liked about this project was that the kids learned a lot about economics and counting," said Conlon. "They made their own signs for Stone Road [in front of the school] and for the lemonade stand, itself. And they sold hundreds of glasses of lemonade; I think they'll be entrepreneurs someday."
Chris Berrios, 6, said the firefighters "liked our lemonade because it had sugar and water in it." Conlon purchased the lemonade makings from the school and made it for the children. "We sold 65 gallons," she said. "Lots of people told us it was the best lemonade they ever tasted."
"Some people thought we had a secret ingredient," said Taylor. But, said Conlon, "It was just love."
Brenda enjoyed selling the lemonade at the fun fair because "every child and parent knew what it was for and how thankful we are to help the orphans." Conlon said she was "really humbled by how generous people were; I thought we'd maybe make $100."
Six-year-old Will Horning said he felt happy to help children who "don't have any houses and parents. When the chicks lay their eggs, they'll sell them to a store for money, and they'll also be able to eat some of the eggs."
Added David Choi, 7: "The eggs grow into more chicks, and the chicks lay more eggs, so it keeps going 'round and 'round."
Conlon said the lemonade-stand proceeds were given to the orphanage so it could purchase the chicks there. "It's a self-sustaining project that keeps on giving," she said.
"If we didn't do it, the orphans would be even poorer," said Rainey Boner, 7. "And if they didn't have any money, they couldn't go to school and learn anything." Agreeing, Marjorie Rivera, 6, said, "I liked collecting the money for them."
Samuel Miller, 6, was glad to receive donations for such a good cause. And Sissi Akumutima, also 6, learned that "not only grownups can make a difference."
The Friday the students sold lemonade outside the school was especially meaningful to a man driving along Stone Road. "He saw our signs saying, 'Helping Orphans,'" said Conlon. "He said he was really touched by seeing all these yellow-shirted children outside raising money for orphans because his wife had been an orphan in Zambia before coming to the U.S."
Summing it all up, Taylor said, "We didn't just do this in our brains, we did it in our hearts."