Centreville — Slated for a jury trial in connection with a triple stabbing and murder inside a Centreville apartment, Man Ha Park, 54, instead pleaded guilty to crimes that could place him behind bars for the rest of his life.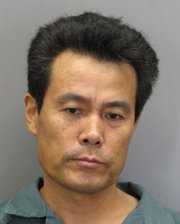 On July 9, in Fairfax County Circuit Court, he entered guilty pleas to first-degree murder and malicious wounding. The offenses occurred June 6, 2011, and the murder victim was his ex-girlfriend's sister, Mihwa Kim, 49.
During Park's preliminary hearing, Sept. 7, 2011, the ex-girlfriend, Shanna Kim, 52, testified that Park stabbed both her and her sister and then tried killing himself, as well. She said he was armed with two long knives — a kitchen knife and a sushi knife.
The tragedy happened inside the Elms of Centreville apartment complex, across Braddock Road from the Old Centreville Crossing Shopping Center. Shanna Kim had known Park four years and, she said, he'd lived with her and her sister in that apartment — where Mihwa's husband and 12-year-old daughter also lived — until Park moved out, May 29, 2011.
Kim said they'd asked Park, a sushi chef, to leave because "he couldn't keep a job and wouldn't try." But in the early-morning hours of June 6, 2011, the two women were there alone, sleeping, when he returned. Shanna Kim was in a bedroom and Mihwa Kim was in the living room.
Awakened by noise around 5 a.m., Shanna Kim said she went to the living room and saw Park stabbing her sister several times.
"I screamed and my sister fell to the floor," she said. "Then he came over to me and I grabbed the knife," continued Kim. "I told him, 'Why are you killing my sister? You should kill me.' And he said, 'You die, too,' and he stabbed me in the tummy."
In court July 9, Assistant Commonwealth's Attorney David Gardy explained the motive behind Park's actions. He said Park was married and had lived in Oregon but, enamored of Shanna Kim, he'd left his wife for her. However, as a result, he lost face in the Korean community and then couldn't find a job. So, said Gardy, Park took revenge on Kim and her sister.
One of the last times she and Park had talked, said Kim, "He asked me if we were finished for good, or just temporary. I told him I'd go back to him if he could hold a job for three months."
After being stabbed, Shanna Kim blacked out. When she regained consciousness, she heard Park in the bedroom, talking on the phone. "I think he was talking to the minister's wife in Oregon," she said. "He was saying he'd killed both of them and he'd stabbed himself and was dying, too."
Shanna Kim managed to escape, though, and had a neighbor call 911. Park also survived his wounds and was arrested and held without bond in the Adult Detention Center.
Before accepting his guilty pleas, Circuit Court Judge Robert Smith asked Park, via a Korean-language interpreter, if he was pleading guilty to murder and malicious wounding of his own, free will and because he was, in fact, guilty as charged. He replied that he was. Smith then set Park's sentencing for Nov. 9.