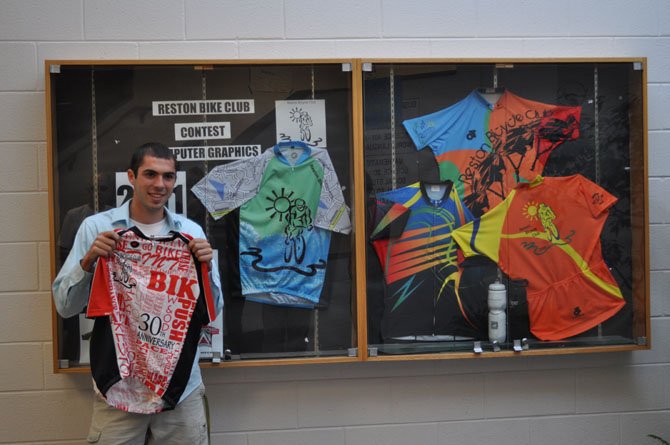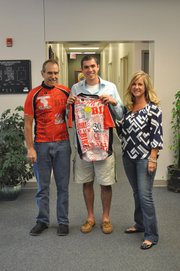 The Reston Bike Club (RBC), over the last five years, has worked with the South Lakes High School Fine Arts Department: Each year, the RBC brings a jersey design contest to the school and with the help of Amy Saylor, fine arts teacher, art students get a chance to implement their newly-learned skills in submitting designs to the club.
On June 1, the RBC presented awards to the six South Lakes High School students for their artful efforts in the design of the club's 30th anniversary cycling jersey. Dan Scrafford, Ed Robichaud, Ken Thompson, and Barb Lytle met with Principal Bruce Butler, Fine Arts teacher Amy Saylor, Director of Student Services Devina Johnson, and the prize winners including Tyler Hutchins (1st place), Nick Beaulac (2nd place), Kaitlyn Hudenburg (3rd place) and honorable mentions Hadir Abdalla, Kristian Gendron, and Max Hijar.
Serving over 700 cycling enthusiasts, the club offers group rides and works with the public, governmental entities and cycling organizations via fairs, educational seminars, bike rodeos, etc., to promote education for both cyclists and drivers to ensure the safety and enjoyment of all. Each year, the club also sponsors the Reston Century to be held August 26, with options of various distances (104, 65, 34 miles).
For more information about the club and to learn more about group rides and Reston Century training rides, please visit www.restonbikeclub.org.