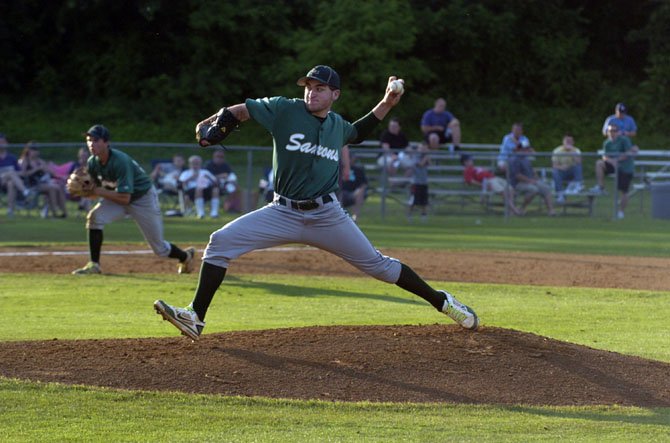 Great Falls — A remarkable Langley High baseball season which saw the Saxons go from a team struggling to play .500 baseball at the midseason mark to one of the Northern Region's elite teams came to an end last Wednesday night, May 30. Langley, in a region tournament semifinals playoff game versus perennial power West Springfield, fell behind early and was never able to get back into striking distance in a 7-1 season-ending defeat. The postseason affair took place at James Madison High School in Vienna.
Langley, under head coach Kevin Healy, finished the spring season with a 15-11 overall record. The Saxons, who were 4-6 at one point of the season following spring break week, went 11-5 over the second half of the season, including four wins over six games during the postseason which saw Langley reach the Liberty District tournament finals before losing a 6-5 championship affair to Stone Bridge and then going on to win a pair of games at the 16-team regional playoffs to make it to the semifinals.
Langley reached the region final four with playoff wins over Robinson, 3-0, on May 25 in the first round, and defending region champion South County, 4-1, in a quarterfinals round game on May 28.
But against West Springfield (Patriot District), which went on to defeat its local rival, Lake Braddock, in Saturday's region title game, the Saxons gave up three runs in both the bottom of the first and second innings and never recovered. In the game, Langley had five base hits (all singles) and coaxed three walks, along with two hits batsmen. But the Saxons only crossed the plate once - that coming in the top of the fourth inning when Michael Byrne, Langley's second baseman and No. 5 hitter in the lineup, earned a leadoff walk and eventually scored on an RBI single into left field off the bat of No. 9 hitter Dan Richardson, the team's left-handed hitting left fielder.
The fourth had the potential to be a big inning for Langley. West Springfield starting pitcher Frank Sturek, who earned the complete game win despite allowing 10 base runners and being, it seemed, in constant trouble, walked Byrne to start the inning. One out later, Langley's Gray Decker, the Saxons' left-handed hitting DH, roped an opposite field single into right field, advancing Byrne to second base. So, although trailing 6-0, Langley had a little rally brewing with runners on first and second with one out. Sturek got the second out on a fielder's choice before Richardson's single ended his shutout bid and got Langley within 6-1. Sturek, however, got the final out on a groundout.
West Springfield came back with a run in its half of the fourth to offset the Langley run and make the score 7-1. There would be no more runs over the game's final two-and-a-half innings and 7-1 was the final.
LANGLEY LEFT eight base runners stranded in the game, including three in the third when the Saxons could not take advantage of Sturke's two walks and a hit bats man.
Decker, a senior, had two of Langley's five singles, those coming in the fourth and sixth innings. The Saxons' other singles came from Cal Jadacki (first inning), pinch hitter Jack Frix (sixth), and Richardson's RBI in the sixth.
Getting on base via walk for Langley were Brandon Bast, Jadacki, and Byrne. And reaching base as a result of being hit by a pitch were Matt Moser, who led off the game by taking one for the team, and David Paul, who was plunked to start the third inning.
Langley starting pitcher Jonathan O'Conner, a left-hander, struggled but hung tough through four innings of work. Only three of the seven runs he allowed were earned. Jack McSteen pitched well in two innings of shutout relief for the Saxons, striking out four in a row at one point.
The evening's defensive gem for Langley came in the fourth inning when left fielder Richardson made a terrific sliding catch in left center field for the third out on a ball hit by West Springfield's Nick Stevens.