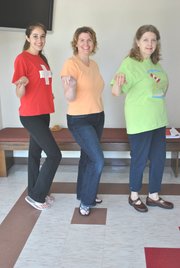 A group of over 70 performers made up of everything from former Coast Guard members to financial planners, will all take on different roles of characters from some of the most beloved children's literature of all time.
In their upcoming musical production "Seussical," The Good Shepherd Players, a normally grounded troupe of performers aged 4-74, will assume the roles of jungle creatures, Whos, Circus Mcgurkus members. For Debbi Miller (Fairfax) the show's musical director, "the experience has been fantastic, it's a show full of whimsy and bright colors and nonsense, but added-in are some truly beautiful themes."
Sara Breaux who doubles as the show's Sour Kangaroo said "it's such a good family show with so many really important messages about friendship, loyalty and independent thinking." The family aspect does not only percolate within the show's messages but also within the bond of the entire cast. The cast features over 20 families that have two or more members in the show. "Horton the Elephant is the father of Jojo and my daughter is The Cat in The Hat just to name a few" said Miller. "It creates a fabulous sense of community where we are able to trust one another."
The Good Shepherd Players are all people who love and appreciate community musical theater. "For a lot of the kids it's their first show experience" said Breaux, "but for all of us its been an escape from everyday reality to the fantastic land of Dr. Seuss."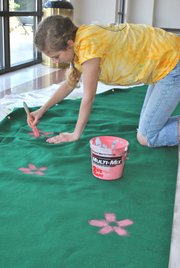 In charge of the entire set design process is 18-year-old Maggie Rogers (Fairfax) who has created such elaborate scenes as Whoville, The Jungle of Nool, Jojo's Bedroom and Circus Mcgurkus. Rogers said of the production, "It's an amazing show and it's a really talented group of people. It's going to be so much fun, especially if you like Dr. Seuss. And who doesn't like Dr. Seuss?"
Two of the show's youngest cast members, 4-year-old Cosia Herisonghips and 6-year-old Kai Henrisonghips, said their favorite part of the show is "when we get to crawl through the tunnels! It's so fun!" the girls said. The tunnels, created by Rogers, are set pieces in the Jungle of Nool scene, that the jungle animals crawl though as a part of their entrance. Kai added "but sometimes people crowd me and I'm still a little shaky on stage."
But with rehearsal schedules that last up to eight hours a week the troupe will be more than ready for their debut Friday, June 8 at 8 p.m. All performances will take place at The Church of the Good Shepherd, in Burke. Tickets can be purchased online at www.goodshepherdplayers.com.
A word of advice to any future audience members from Debbi Miller: "Without giving too much away, sit in the front row. It will be a great time."