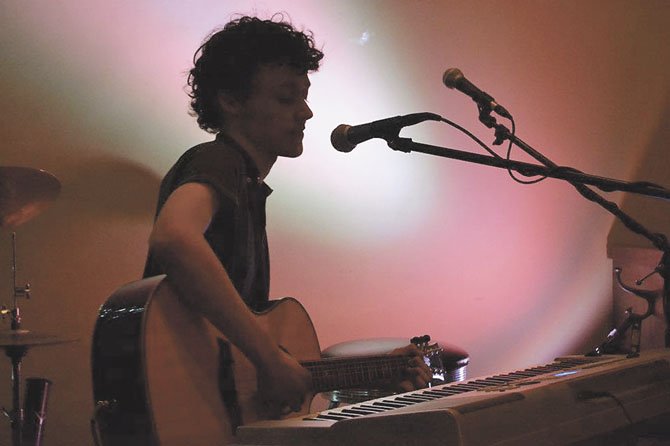 Hayden Arp didn't always love music. However, in seventh grade he discovered Garage Band on his computer and began exploring with it. Soon, he found a passion for music that exists to this day.
"People started calling me the Music Guy, which was a title I happily accepted," Arp said.
Arp, a junior at T.C. Williams High School, just released an album on May 14, titled "Of Pretty Girls and Nightmares," which he has been working on for the past year and a half.
"One thing I think is very good about this record is that I have a really good elevator pitch," Arp said, laughing. "The theme of the entire record is, more or less an exploration of the parallels between what is beautiful and what is darker. I realized that when I was writing the record was that the song was either about pretty girls, or it would be about these darker [themes]." Hence the title "Of Pretty Girls and Nightmares."
Arp taught himself the majority of his musical skills. Though he took lessons in guitar and upright bass, he taught himself how to play drums, the ukelele and piano. "I learned to mix, arrange, write and record music all at the same time," Arp said. "[Of Pretty Girls and Nightmares] wasn't made like a normal record would be made. Instead of writing songs, then arranging, then recording, then mixing, I would do it all at once … so the themes of the album are a little incohesive."
"Not everything I do is about music," Arp said. "Music to me is a living thing. But I also love soccer, and I do yoga, and I like to hang out with friends when they want to hang out with me," he joked.
Friend and fellow T.C. junior Maria Jones said, "He is a very talented musician and the effort he's put into the album has seriously paid off. Hayden really cares about his fans and listeners and consistently asks for feedback because he genuinely wants to be the very best he can be — and he's not far from being just that."
Arp is focusing on marketing "Of Pretty Girls" and performing live in the future. "I've spent a lot of time making this music and I want people to hear it," he said. As for long-term plans, he hopes to begin work on a second record and to continue to have music in his life.
"To have my actual profession be something not to do with music, that's hard for me to imagine," Arp said. Some people say of careers, 'I would love this,' or 'I would really like that if that happened,' and I was like that for about a year. And then in eighth grade, I just decided that people who make it in music don't say, 'Yeah, I'd love to do that.' They say 'I'm going to do it.' And that's how I was. I don't want to be doing this unless I'm doing it right. And I don't want to make music unless I'm making music that's going to touch people and really is worth their time."
To check out Hayden's music, listen to his free streaming player on his website: http://haydenarpmusic.com/listen/
Follow him on Twitter (@haydenarpmusic) and 'Like' his Facebook page.