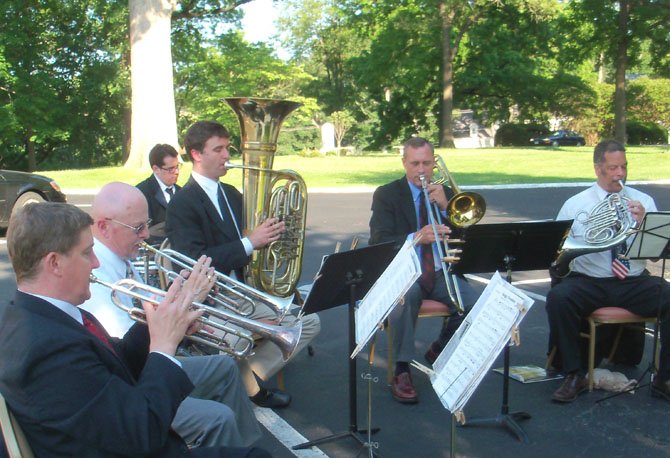 Arlington — More than one person asked why the Knights of Columbus in Northern Virginia would extend dinner invitations to more than 50 visiting WW II veterans from Texas.
The answer provided by one of the Edward Douglass White Council 2473 leaders, Owen Beirne, is "Why not? The dates are close to Memorial Day when we all should be thanking our veterans. With modern banquet facilities and willing member-volunteers, we easily — and gladly — can accommodate dinners for special guests like these."
Sam Anderson is group leader for the independently-sponsored visit. The sponsor is Brookshire Grocery Company of Tyler, Texas. Although independent, the company fully coordinates its annual flights with Honor Flight Network, the nation-wide organization that has brought thousands of WW II veterans to see their memorial in Washington. "Our company considers it a privilege to honor the men and women who stepped forward to sacrifice for us and who made possible the good life that we all enjoy to this very day," said Anderson.
Anderson also voiced pleasure at the way the Knights of Columbus pitched in to help, dealt with bad weather and schedule delays, and brought an enthusiasm to the event that matched that of Brookshire.
Several entertainments were provided over two evenings. The first, Whitworth Brass Quintet, greeted the visitors with marches and ragtime tunes. Throughout the year, the ensemble meets arriving groups at Reagan and Dulles airports. "We cannot honor our veterans enough," said leader Roger Whitworth.
Two dozen members of the West Point Alumni Glee Club sang the National Anthem, and a selection of other works for entertainment. It is comprised of about 200 West Point graduates who sang in the glee club or one of the chapel choirs. Terry Ryan, its spokesman, said, "We sing at a number of patriotic events. However, appearing at any gathering of WW II veterans is the easiest to get the guys out for. They are our heroes."
Two dance groups performed. Cardinal Cloggers, centered in Herndon, displayed skill with the Appalachian art form under the direction of Theresa Werner. Gottaswing, demonstrating "swing" and "lindy hop" from the 1940s, brought back memories for the guests. Several visitors were moved to try a twirl or two around the dance floor.
There were serious moments. Invocations were offered by the council chaplain, the Rev. Joseph Giordano. Bugles Across America arranged for "Taps" in memory of the dead who have served the country. Bugler David Shuma observed that a large number of "our missions" involve funerals, so the chance to attend a gathering of senior veterans is very appealing.
As one veteran was leaving, he said "thanks" and then explained why he was so grateful: "In today's wars you are deployed for six months or whatever and you know when you are coming home. I was in WW II for four years; you never knew when you were coming home … You guys made it all worth it tonight; it is good to be home."
Hosting distant guests but ignoring its own WW II veterans did not sit right with the local council. The remedy was "to add our own dozen or so WW II veterans as guests," said Beirne.
Words of American humorist Will Rogers serve as motto of Honor Flight Network: "We can't all be heroes. Some of us have to stand on the curb and clap as they go by."