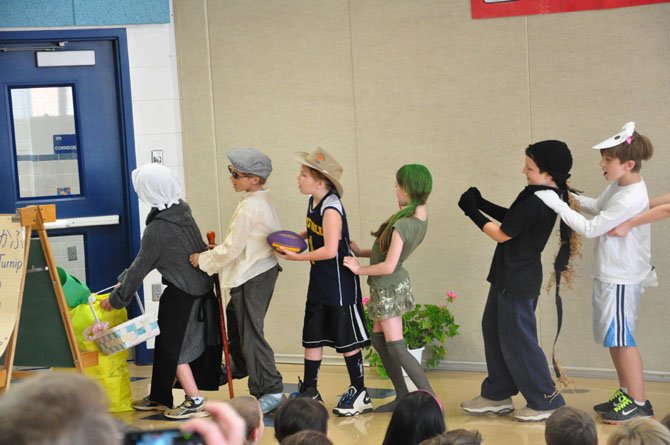 Great Falls — The students in the Japanese Immersion Program at Great Falls Elementary School held their annual performance of "The Enormous Turnip" Friday, June 8. Based on a Russian fairy tale, the story is about a farmer who recruits an assortment of characters to help him remove an enormous turnip from the ground.
The third grade students started the show by singing the multiplication table song in Japanese. Right after that students in costume began appearing one at a time to assist the farmer, speaking only in Japanese.
"I love the program, the kids and the sensei put on a fabulous show," said Stephanie Wickberg, parent of a third grader. "We were very excited for the role in my house, but there was a lot of nervous practicing leading up to today."
The farmer, his wife and his son eventually required the help of a snake, horse, ram, chicken, monkey, dog, wild boar, cow, tiger, rabbit and finally a dragon. The animals come from the Chinese zodiac (which is also used in Japan), with the dragon signifying the year 2012, the year of the dragon.
"It's fun to watch the children work hard on the play, and the casting was interesting because it was completely at random, drawn out of a hat," said Debra Steppel, a parent. "So there was a tall kid playing a mouse and a girl playing the son, but they had fun with it."
The students spent a lot of time this year getting out into the community.
"They learn so much in the program, and also get to spread it around the community," Steppel said. "This year they visited a nursing home and sang 'It's a Small World' in Japanese, and the residents said it was the highlight of their week."
The students also performed in Washington, D.C. earlier this year to celebrate 100 years since the arrival of the cherry blossoms, which were a gift in 1912 from Yukio Ozaki, then mayor of Tokyo City. They performed on several occasions in the city.
"Going downtown for the new year's celebration for the Japanese ambassador was a wonderful experience," said Mary Kate Moran, a parent.

Mamiya Worland, sensei of the Japanese Immersion Program, said, "We had a fantastic year, but we couldn't have done it without the parents, especially the room parents, their dedication throughout the entire year was amazing."
Steppel said her children have even found uses for Japanese at home.
"They talk to the dogs in Japanese," she said. "My first grader is even trying to teach the cat commands in Japanese."