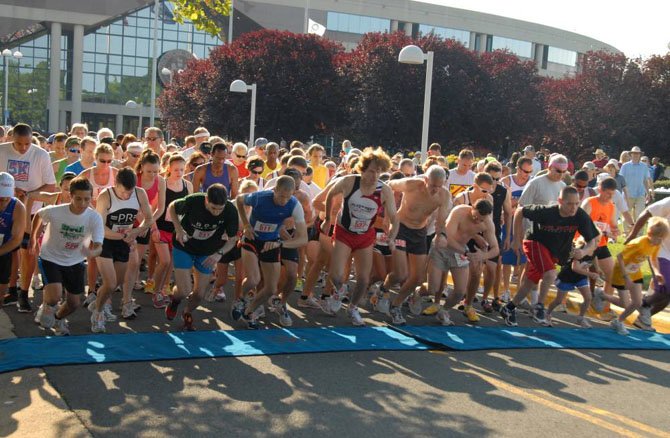 There's still no cure for the hepatitis C that claimed Tim Harmon's life in 1999 at age 51. But funds raised by a 5K race in his honor go toward that goal — and one, lucky raffle-winner will take home a football autographed by new Washington Redskins quarterback Robert Griffin III.
The 13th annual Tim Harmon Memorial 5K Run/Walk is set for Saturday, June 23, at 8:30 a.m., at the Fairfax County Government Center. It's held rain or shine; the cost is $25. Registration is at www.prraces.com or in person on race day, from 7-8:15 a.m.
"Last year's race raised $13,500," said race director Tom Cook of Chantilly's Armfield Farm community. "We had over 500 participants, which is what we're hoping for again this year."
The course begins and ends in front of the Government Center and goes out to West Ox Road and Monument Drive. Participants may either walk or run. For more information, call 703-383-8441, e-mail peggy.cook@fairfaxcounty.gov or see www.timharmon5k.org.
Harmon dedicated his life to helping people battling addiction. He worked 20 years for Fairfax County and was director of Residential Services for Alcohol and Drug Services. He founded a substance-abuse treatment program for teenagers and, because of his efforts, seven new residential treatment programs were opened and others were expanded.
Cornerstone, A New Beginning and the Fairfax Detoxification Center comprise the Tim Harmon Campus on Walney Road in Chantilly. It was dedicated to the husband and father of two in 2000, a year after he died.
"A lot of these programs began because Tim pushed for people to support the early 1990s bond referendums to build these facilities," said Cook, of the Fairfax-Falls Church Community Services Board, Wellness and Health Promotion branch. "He was also a driving force behind getting additional beds for them."
So the 5K race is held to remember Harmon and raise awareness of hepatitis C. Proceeds go to charities including the Hepatitis Foundation, the American Liver Foundation and local drug-treatment centers. Said Cook: "There are lots of people who no longer work for the county, but still come back and volunteer on this race because it's important to them to keep Tim's legacy alive."
Prizes in the 5K are awarded to the top three, male and female overall finishers, plus the top three finishers in 14 age-group categories. There are four race divisions: Runners/walkers, Fairfax County employees, baby joggers and public safety. Fire, police and sheriff's department personnel will compete against each other for team and individual trophies.
There'll be a silent auction for items including footballs signed by former Washington Redskin quarterback Joe Theismann and Miami Dolphin Hall of Fame quarterback Bob Griese, Washington Nationals tickets, D.C. United sideline passes, plus other sports memorabilia.
"We'll also sell $10 raffle tickets and do a random drawing for a football signed by the Redskins' new quarterback, Robert Griffin III," said Cook. "It'll be a great prize for someone."
More than 100 trophies, plaques and medals will be presented, plus more than 50 door prizes donated by local restaurants and merchants. These include a $100 gift certificate to Assaggi, an Italian restaurant in McLean; gift certificates to Ledo Pizza, Foster's Grille, Noodles & Co., Milwaukee Frozen Custard and Baja Fresh; and four tickets to a Potomac Nationals game.
Classic-rock band, The Sock Monkeys, will perform, and refreshments will be available after the race. Registered participants receive custom T-shirts designed by Kay Rankin. Sports Plus & Battlefield Screen, Cassaday Inc., Potomac River Running, Michael & Sons Inc., Kohl's and Booz-Allen Hamilton are the major sponsors.
Cook said more than 3 million people in the U.S. have been infected with the hepatitis C virus — but nearly half don't know it. So literature in the race packets educates people about hepatitis C and how to avoid contracting it.
Harmon's disease was discovered through a routine blood test. But it's still a silent killer with no symptoms, so people don't realize they have it until they're diagnosed. But by then, their livers may be irreparably damaged — and that's what happened to Harmon. (For more information, call 1-800-891-0707 or see www.hepfi.org).
"According to the Centers for Disease Control, deaths from hepatitis C are on the rise," said Cook. "One out of 33 Baby Boomers is living with the infection; but unless they're tested, they may not find out until it's too late."