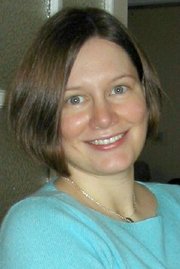 For local children's book writer Ann Bonwill, the passion for reading and writing began as a child growing up in Maryland. Her mother, a children's librarian, let Bonwill read books in the corner of her library while she prepared her lessons in the evenings and on weekends.
"She had a strong love of children's literature and exposed me early to all kinds of books," Bonwill recalls. "Some of my fondest memories were going with her to the Cheshire Cat which was an independent bookstore in D.C. at the time." Picking books out with her mother, now retired, "was like candy for me", Bonwill describes.
On her website at www.annbonwill.com, she reveals: "I started writing stories as soon as I could hold a crayon. When I was in kindergarten I was sent to the principal's office. I thought I was in trouble, but she just wanted me to read her one of my stories."
Bonwill continued to enjoy writing stories, often adventures featuring "a dog and a girl in the wilderness." She imitated the writing styles or plot lines of books she was reading at the time. For example, after reading Laura Ingalls Wilder books, Bonwill's childhood writing might include characters mashing up their own food, living the pioneer life. Other favorite childhood books included "The Little Brute Family," the Frog and Toad series, "Anne of Green Gables," and stories about the Moomintroll family.


SHE OBSERVES, "I think that was really good practice for me to try to find my own voice…copying what I was reading. That was a good exercise in its own way. [It was a] neat way to start learning about different voices and eventually find my own."
As much as she enjoyed and excelled in storytelling, it wasn't until much later that she even considered writing as a career. After receiving her degree in Psychology at the College of William and Mary, where she met her husband, she worked as a social worker and then as a Montessori teacher.
As she read aloud old and new favorites with her students, she noted which storylines were so classic they continued to appeal to students over the years. Also, she was inspired by the funny and sweet things her students did in class and knew some of them would make great characters. This exposure to children's literature in her adult life became the impetus to her own writing career.
Bonwill's most recently published book, "I Don't Want to be a Pea," details a dilemma between two best friends, a hippo and a bird. The main characters Hugo and Bella must choose costumes for a special party and can't agree on the best ones. Readers learn the importance of compromise through Hugo and Bella's affectionate interactions.
Friendships are a recurring theme in Bonwill's stories, she says. "In that preschool age they're really figuring out what friendships are about. They're moving from that parallel play to playing together and how to be friends with someone who's not exactly like you." Another Hugo and Bella book, called "I Am Not a Copycat," is scheduled for debut in 2013.
Another popular Bonwill book, "Naughty Toes," incorporates her own experiences in ballet class as a child. The character Belinda is a much better dancer than Trixie, who has "naughty toes" that won't behave in class. "I took ballet and I never quite felt like I fit in the ballet class," Bonwill says.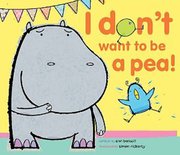 THE STORY illustrates how to find one's own special talents. While she states that whatever book she's working on at the time is typically her favorite, "Naughty Toes" holds a special place in her heart because of its connection to her childhood.
Bonwill, who currently lives in Burke, works part-time in admissions at a Montessori school and is mother to 4-year-old Sam. Bonwill enjoys taking walks and going to parks with her family. She's also a trained pastry chef who at one time created wedding cakes. These days she focuses on healthier cooking for her family.
Both Sam and her husband Matt, who grew up in Fairfax, are very supportive. It can be a challenge to find the time to write and attend events like conferences and book signings, but Bonwill says her family encourages her to do what is needed.
"[Sam] came to a book signing I did locally and it seemed to make a big impression on him," Bonwill notes. "And he seems to really like Hugo and Bella which is really fun."
Bonwill says she draws her ideas from everywhere: "Nature, watching my son, watching his friendships and the things he's interested in. I've always been an observer. I think even in childhood I was, where I watched people and just listened."
Bonwill has two other books coming out next year; one is a bedtime story and one is about a forgetful family. She's also working on a third Hugo and Bella story as well as writing some middle grade fiction.
She continues to enjoy the sweet letters and pictures she receives from her young readers. "It's different than getting reviews from professional people or adults. When a child actually takes the time to say 'Oh, I really liked Bella' or 'I think I'm like the girl in Naughty Toes', it's neat to hear that. It's neat to get those to know that you touched a child."
For more information about Ann Bonwill, visit her website at www.annbonwill.com. Her books can be found at Amazon.com and Barnesandnoble.com.