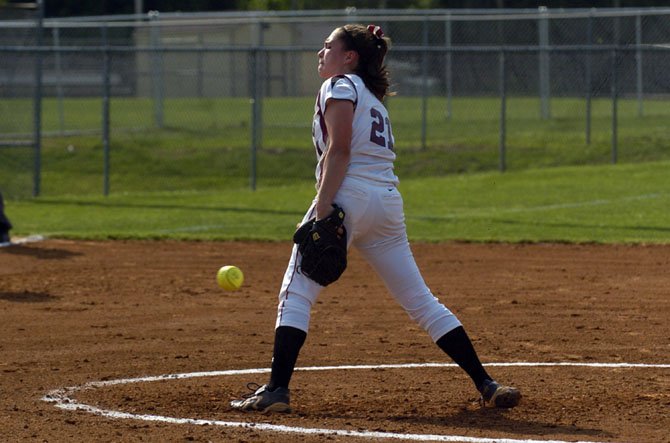 Vienna — Sophomore Allison Davis performed like the Northern Region Pitcher of the Year. Senior catcher Mandy Krage came through like a veteran in the clutch. Together, the duo lifted the Oakton softball team to a berth in the state playoffs.
Davis hurled a three-hit shutout and Krage drove in the winning run in extra innings as the Cougars defeated South County, 3-0, in eight innings during a regional semifinal matchup on May 30 at Madison High School.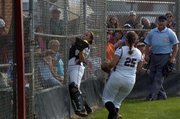 Davis, recognized as the region's top pitcher, struck out 16 Stallions while walking just two. However, South County pitcher Rebecca Martin matched Davis zero for zero through seven innings. In the top of the eighth, Oakton loaded the bases with one out. After a Cougar strikeout, Krage came to bat and quickly fell behind 0-2. But the senior co-captain wouldn't be denied, delivering a soft single up the middle to break a scoreless tie. Senior Hayley French and sophomore Alana Peters each added an RBI single to give Oakton a 3-0 advantage.
"Whenever I get down in the count, I know to choke up and take shorter swings," Krage said. "I knew that [Martin] was going to try to get me out --- she wasn't going to give me any balls or walk me. I had my eye on the ball the whole time and our coach always tells us to hit up the middle and that's what I did. …
"Once I hit first I just saw [Emily Corridon] hit home and I basically knew that we won at that moment."
Davis said she had faith her battery mate would come through when it mattered most.
"She just always comes up in the clutch situations," Davis said, "and she always gets a hit, too."
Davis allowed just one runner to reach third base. South County loaded the bases with two outs in the third inning, but Krage made a catch against the fence in foul ground near the first-base dugout to end the threat.
"She was on," Krage said of Davis. "She did a phenomenal job. … She really was hitting her spots well."
Oakton lost to Stone Bridge in the region final, 5-4, on June 2, and lost to Cosby, 6-1, in the state quarterfinals on June 5.