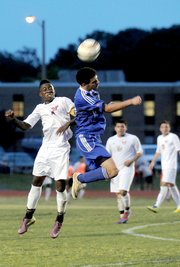 Mount Vernon — The Mount Vernon boys' soccer team gathered for one last hug on the field as the Majors continued to support one another after their region quarterfinal matchup with Robinson on May 24. In a year that included the program's first No. 1 seed in the district tournament and first district title since 2005, Mount Vernon's season came to an end on penalty kicks.
After 80 minutes of regulation time and four five-minute overtime periods, the Majors lost, 1-1 (6-5), to Robinson, ending Mount Vernon's season in the quarterfinals for the third consecutive season.
"To go out like that," junior Simond Kargbo said, "it just breaks our heart."
After falling behind, 1-0, in the first half, junior Rahim Costa-Dorsey tied the score with a goal in the 51st minute. The game eventually went to a penalty-kick shootout, where a save by goalkeeper Diego Castro gave the Majors an early advantage. However, Mount Vernon couldn't capitalize and Robinson goalkeeper Josh Penn made the game-winning save with the Rams leading 6-5.
"It was really fun playing with them," said Costa-Dorsey, a junior transfer from Lafayette High School in Williamsburg who grew up in Germany. "We've got a very talented team and we connected to each other. We were basically all like brothers and it's now sad that the season is over."
Mount Vernon finished the season 14-2-2, was ranked in the five of the Washington Post top 10 and in the top 20 of the ESPNHS POWERADE FAB 50.
"I don't think they realize how proud of them I am," head coach Robert Garza said. "I love every one of them like they're my own kids. I'm so proud of the way they proved to their school, to their community, to their followers what it takes to have heart in play."