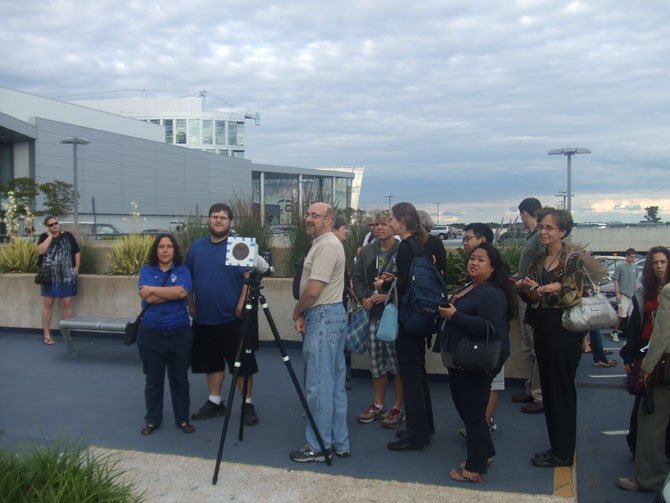 Arlington — Arlingtonians gathered at the top of the parking garage in Ballston Mall on June 5 at sunset to witness what will be the only occurrence in their lifetime. Earth's closest planetary neighbor, Venus, crossed the face of the sun, producing a silhouette the size of a sunspot which can be visible with the naked eye.
Transits of Venus occur just twice in a little over 100 years or so. The last time this happened was in 2004.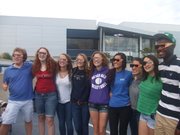 Dan Carroll, a board member on the Friends of the Planetarium, helped organize the gathering. "I was at a science conference sponsored by NSTA and NASA, when they pointed out that it is a significant event," said Carroll, who is also a physics teacher at Yorktown High School. Friends of the Planetarium has partnered with the Arlington school system in support of the planetarium — reopening in September — and its programs. "They are in the development and planning phase to provide scholarships for students to go to space camp, college and support teacher professional development programs," said Carroll.
The cloudy sky did not prevent dozens of students from putting on solar sunglasses and peering through telescopes set up by the planetarium and other science lovers. The Friends of the Planetarium brought a "sun spotter" which can project the occurrence on a blank sheet of paper. "The light bounces off several mirrors and then it goes down to the circle and shows where Venus is," said Margaret Radcliffe a third grader at Colvin Run Elementary School. A little past 6 p.m., the shadow of Venus appeared on the sunspotter for less than a minute.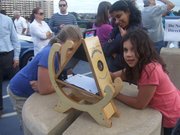 Some area high school science teachers used the opportunity to bring their students to a "real" science event. Jennifer Weidman, who teaches 11th and 12th grade physics at Washington-Lee High School invited her students to come see the spectacle. "Whenever I hear about a scientific event my students can actively participate in, I try to find a way to get them involved. This is a rare astronomical event that students can see with their naked eye; all I had to do was buy solar glasses. Getting students excited about science with something they can actually see is a fun application of what they are learning in class," said Weidman.
"I really like astronomy and figured it would be once in lifetime event and tell people who watched it online that I actually saw it in person," said Andrew Auchter, a junior in Weidman's physics class.
For those who missed this opportunity, they may be able to glimpse another similar sun-planet crossing in the future. The planet Mercury transits the sun much more frequently, about 13 or 14 transits per century, according to NASA.