Arlington — The joint ultimate Frisbee team between Yorktown High School and H-B Woodlawn Secondary School, commonly known as "YHB" by its members, competed at various tournaments at the state and regional level during the spring season this year.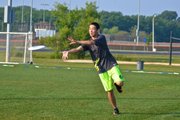 "I thought the season went really well," said Yorktown senior Jay Boyle, via phone, who is the co-captain of the YHB boys' varsity team. "It was really nice to finish" on a "strong note." "I don't think I've ever had a bad year with YHB."
At the 2012 USA Ultimate Virginia High School Championship held on May 12-13 in Carrollton, Va., the YHB boys varsity team took 1st place in the open division for the third in row out of 12 teams. The open division is primarily made up of boys but is open to girls as well.
While YHB only has one boys junior varsity (JV) team, it was split for the tournament into the Yorktown JV, which placed 7th, and the H-B Woodlawn JV team, which placed 6th. Will Smolinski, the coach for the YHB boys' varsity and co-director of the entire YHB team, thought that the smaller teams would be more competitive against lower-tiered teams in the tournament.
There was also another boys' team comprised of freshmen, known as the YHB C team, which placed 11th.
The YHB Girls Varsity took 1st place in the girls division for the fifth year in a row out of five teams. The JV girl's team also was divided into smaller teams for the tournament; YHB JV-Bananas and YHB JV-Oranges. The two JV teams took 4th and 5th place respectively.
At the 2012 USA Ultimate Southern High School Championship on May 19-20 in Chattanooga, Tenn., the varsity boys managed to come in 8th out of 12 teams in the open division.
"For Southerns, I think we could have" gotten a better ranking "but I still came out of that tournament happy with our performance," said Christian Gilbertson, a sophomore at Yorktown on the boys' varsity team. "When we went out there we weren't looking to win the whole tournament we were more looking to improve as a team for next year."
The girls' varsity and JV won first place and fifth place, respectively, in the girls division out of a total of five teams.