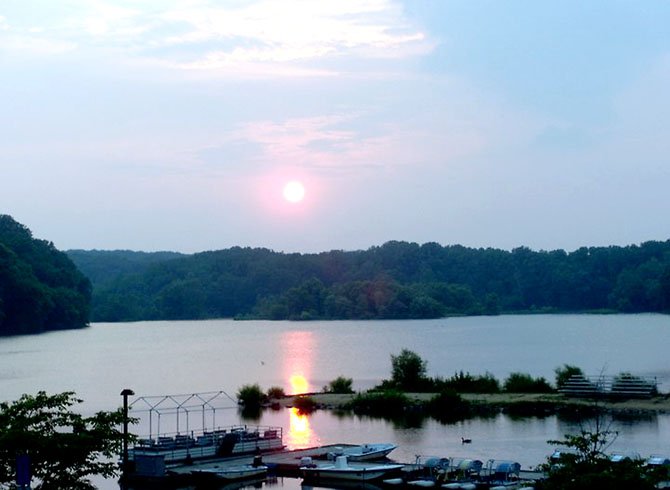 Virginia Transit Association Names Bulova 'Public Official of the Year'
The Virginia Transit Association (VTA) awarded Sharon Bulova, Chairman of the Fairfax County Board of Supervisors, "Public Official of the Year" at its annual awards ceremony in Fairfax on June 13. The VTA recognized Bulova's "extensive and dedicated service to advance and develop public transportation in Fairfax County and throughout the region, and in particular, her role in making the Virginia Railway Express (VRE) the success that it is today," according to the news release. Bulova is one of the founders of the VRE commuter rail system, and currently serves as Chairman of the VRE Operations Board. She was also recognized for her leadership in promoting public transportation service in Fairfax County and the region, including extending the new Metrorail Silver Line through Tysons to Reston; guiding the transformation of Tysons Corner into a successful mixed-use, transit-oriented livable community; providing express bus service on the new Beltway HOT/Express lanes; and expanding the availability and efficiency of service on the Fairfax Connector, Metro bus routes and the I-66 corridor.
The ReBuild Warehouse Rebuilds in New Location
Springfield's ReBuild Warehouse – where discarded building materials are recycled rather than trashed – is back. The warehouse lost its lease last November, but found a new site in the Fullerton Road Industrial Park near the mixing bowl. ReBuild takes in materials from house deconstruction projects and offers them for sale to the public at prices below what customers would pay for new products. In addition to keeping usable materials out of the landfill, ReBuild also trains workers for green collar jobs and presents workshops on sustainability to the general public. The new space opened by appointment starting June 1. To make an appointment, call 703-280-1719. Volunteers are also sought to staff the warehouse, extending the warehouse. For more information on ReBuild, visit www.rebuildwarehouse.org.
Free Home Repair for Seniors
Fairfax County provides minor home repairs to eligible low and moderate income elderly homeowners as well as accessibility modifications for homeowners with disabilities. The benefit includes labor and up to $500 in materials to complete necessary repairs or maintenance. Eligible residents must be homeowners 62 or older or have a disability, or have a family member with a disability. Eligibility is also based on income requirements. Repairs generally fall in the following categories:
*Interior and exterior painting
*Minor electrical repair and replacement
*Window and door repair
*Minor plumbing repair and replacement
*Screen replacement for windows /doors
*Gutter
*Installation of grab bars, railings and other accessibility devices to assist the elderly and disabled.
To find out more about this program, visit: www.fairfaxcounty.gov/rha/seniorhousing/hrep.htm
Summer Camps for Kids
Need a fun camp for your child during the summer? Fairfax County's School-Age Child Care (SACC) program offers options that appeal to the artist, performer and athlete in every child through 24 Variety Camps, two Focus Camps and Camp Discovery. SACC's experienced teachers guide children through adventures designed to develop their talents, enhance their skills, and nurture their creativity. Outdoor play, special events, swimming and field trips will make this a summer to remember. SACC programs are from 7:15 a.m. until 6:15 p.m. and are for children in kindergarten to sixth grade. To enroll your child, call SACC Registration at 703-449-8989, TTY 711 between 8 a.m. to 4:30 p.m., Monday through Friday, except holidays.
Session 1 July 2 - 6 (closed July 4)
Session 2 July 9 - 13
Session 3 July 16 - 20
Session 4 July 23 - 27
Session 5 July 30 - August 3
Session 6 August 6 - 10
Session 7 August 13 - 17
Braddock Nights Concert Series
Jazz, pop, country, classic- and everything in between. The free Braddock Night Concert Series features musical performances for every taste Friday nights throughout the summer. The atmosphere is informal and guests are encouraged to bring a picnic dinner, blankets and lawn chairs and relax with friends and family to celebrate the end of the workweek. Volunteers are always welcome. If you would like to help volunteer at Braddock Nights please call Braddock Supervisor John Cook's office at 703-425-9300. Concerts are held at Lake Accotink Park in Springfield and Royal Lake Park in Fairfax from 7:30 to 8:30 p.m. For a complete schedule and more information, go to www.fairfaxcounty.gov/parks/performances.
Summer Boat Cruises at Lake Accotink
Cruise the scenic shoreline of Lake Accotink during a summer boat cruise. The cruises are offered every day from 7 a.m. to 8 p.m. Sit back and listen while your tour guide shares interesting facts about local wildlife and some of the fascinating history of the park. Keep an eye out for the park's resident eagles. Beverages are served on board. The cost is $6 per person. Participants must be at least age 13. To make a reservation, call 703-569-0285.