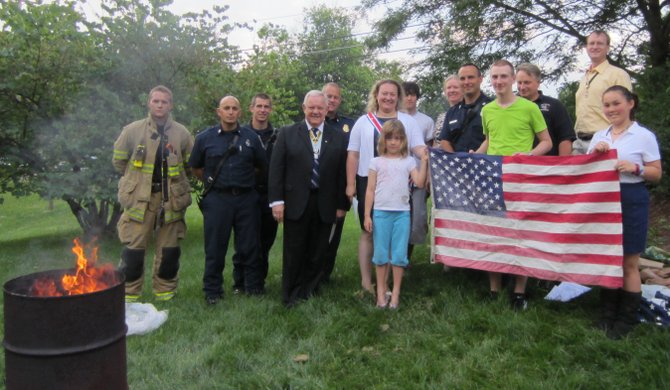 On Flag Day, June 14, members of the Children of the American Revolution (CAR) presented a flag retirement ceremony at the Great Falls Freedom Memorial. Several of the flags had marked the graves of Revolutionary War Veterans. Other flags had been displayed proudly by citizens of Great Falls. This is the third time the ceremony has been held at the Freedom Memorial.
Led by Captain Michael Allen, several members of the Fairfax County Fire and Rescue Station 12 (Great Falls) assisted with the retirement of unusable flags. Members of the Fairfax Resolves Chapter and Washington D.C. Society Sons of the American Revolution, Thomas Nelson and Freedom Hill Chapters of the Daughters of the American Revolution, and members of the community supported this event with their presence and participation.
During the ceremony, Chas Leiss, 1st Vice President of the Virginia Society CAR, presented a new U.S. Flag to Daniela Dixon for the Great Falls Library in appreciation for the use of the Library as a collection point for worn flags.
CAR promotes patriotism and American heritage among young people and in the community. Information about joining the CAR can be found online at www.nscar.org.