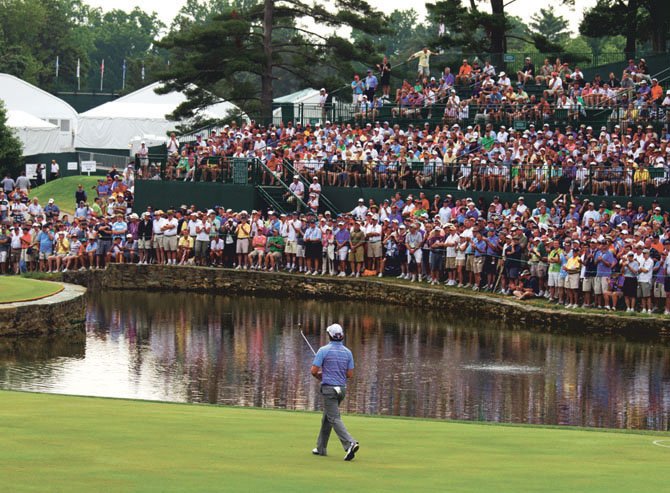 Potomac — Tiger Woods is back in town. The sixth annual AT&T National golf tournament is scheduled to be played at River Road's Congressional Country Club June 28 - July 1.
Ticket Information
See http://www.mrapar...">www.mrapartner.co...
Call 301-365-6946 — AT&T National Tournament Headquarters
Gallery Passes — $25 and up
Ticket Six Pack (Tuesday — Sunday) — $95
Golf Lover's Package — $95 each day/$350 Four Pack
Upgraded access to clubhouse, to on-course Grey Goose Lounge, United Airlines Fairway Club and lunch at Ruth's Chris Steak House tent
Jefferson Club Badge — $250
Access to clubhouse for entire week, including food and beverage for purchase, televisions airing live tournament coverage and access to patio overlooking 10th and 18th holes
National Club — $425
First-class experience inside Congressional Clubhouse ballroom; features a deluxe bar, upscale lunch buffet, and afternoon hors d'oeuvres along with views of 10th and 18th holes from outdoor patio
United Fairway Club — $50 each day
Private VIP lounge with patio on the 10th green and full menu of food and beverages. Multiple flat-screen televisions are available in climate-controlled lounge.
Parking Passes
(Prices are for advanced purchase only and double for purchase on day of event)
See http://www.mrapar...">www.mrapartner.co...
(7 miles from Congressional)
$50 for weekly parking pass
MC Fairgrounds Parking Lot
(Thursday and Friday — 18 miles from Congressional — $7)
Bus T2 from Friendship Heights or Rockville
Taxi/Limo Drop-Off: Allowed at designated areas close to the course; coordinate pickup times since no parking or standing is allowed
"I think it's a fantastic tee to green golf course," said Tiger Woods at his press conference at Congressional earlier this spring. "You have to drive the ball well to get into some of these flags, but once you get on the greens there's a lot of pitch to these greens, a lot of movement, usually from back to front.
"Placing the ball in the correct spots is vital to give yourself a chance," he said, "because a couple of holes, if you put it above the hole, you're not going to make the putt and sometimes, more likely, you're probably going to end up three-putting unless you make a six- or 10-footer.
Congressional hosted the 2011 U.S. Open so the AT&T National was played the last two years at Aronimink Golf Club in Newton Square, Pa.
Woods founded the AT&T National and won the event in 2009, the last year it first was hosted by Congressional.
CONGRESSIONAL HAS HOSTED five major championships, including three U.S. Opens, one U.S. Senior Open and one PGA Championship, according to PGA Tour information.
Potomac had hosted the PGA tour's Kemper Open tournament at TPC at Avenel off Oaklyn Drive for many years.
Expect delays on Potomac's thoroughfares this week, including River Road, Falls Road, Oaklyn Drive and Bradley Boulevard, especially Thursday through Sunday.
This Thursday, the four-day tournament tees off, with 120 golfers competing for the $6.5 million prize purse. A pro-am golf event is scheduled for Wednesday and other activities were hosted on Tuesday.
All proceeds benefit the Tiger Woods Foundation, founded by Woods and his father Earl Woods in 1996.
"What a wonderful golf course, clubhouse and facility," according to Greg McLaughlin, tournament director and CEO of the Tiger Woods Foundation. "That gives us an opportunity to grow our foundation in this community."
The foundation opened two campuses in Washington D.C., providing students with a college-access curriculum, the same model that Woods found successful to his Southern California educational facility.
"This is obviously an incredible event for us with the foundation and what it does for us, what it allows us to do and the kids that we are able to impact," said Woods.
The Tiger Woods foundation has mentored 65,000 youth, including 25 specifically from the Washington metropolitan area.
DEFENDING CHAMPION, Nick Watney, hit a 13-under par to win last year's AT&T National by two strokes over 2007 champion K.J. Choi, who also returns this week.
Watney's score tied Tiger Woods for the lowest overall score in AT&T National's history.
Nine players in the field have won on this year's PGA Tour.
Other players include Hunter Mahan, 30, who is linked in the tournament's record book with Watney and Anthony Kim for scoring the lowest round at 62. Mahan has earned more than $4,077,013 on the PGA Tour this year by winning five tournaments. He finished second to Woods in 2009 at Congressional.
Ben Curtis, 35, has earned more than $2.15 million this year, winning the Valero Texas Open in April.
Dustin Johnson, 28 of Myrtle Beach, S.C., won the 2012 St. Jude Classic earlier this month and has earned more than $1.8 million this year. Before the St. Jude Classic, he missed six weeks due to a back injury he endured while lifting a jet ski.
Jim Furyk, 42, comes to Congressional after finishing fourth at the U.S. Open, which he led much of the last day last week. He has earned more than $1.9 million this year and has 16 career wins on the PGA Tour.
K.J. Choi, 42, won the inaugural AT&T National in 2007 and finished second to Watney in 2011. He has eight victories on the PGA Tour and learned the game by studying Jack Nicklaus' lesson books and videos.
Jordan Smith, 18 of Dallas, helped the University of Texas win the NCAA Championship this spring and Beau Hossler, 17 of California, will be a senior next year at Santa Magarita High School.
Woods has won 73 victories on the PGA Tour, the most of any active player and 14 major championships, second to Jack Nicklaus' 18 championships.
By the Numbers
120
Professional golfers will play this year's AT&T National scheduled for June 28 - July 1 (other tournament events including a pro-am to be held June 26-27) at Congressional Country Club off River Road.
$6.5
Million dollar prize purse for this year's tournament.
13
Under par shot by Tom Watney, the AT&T National's defending champion. Watney's score tied Tiger Woods for the lowest overall score in AT&T National's history.
2009
The year Tiger Woods won the AT&T National. The tournament's proceeds benefit the Tiger Woods Foundation, founded by Woods and his father Earl Woods in 1996. Two campuses are located in Washington D.C.
7,569
Yards on this par-71 course. Jack Nicklaus hit an ace on Hole Seven (par three, 173-yards) in the final round of the 1995 U.S. Senior Open at Congressional. See http://www.mrapar...">www.mrapartner.co... for course descriptions and strategies.
30,000
Complimentary tickets distributed by the AT&T National tournament to local U.S. military members, who will be treated to seating in the climate-controlled tent at the 17th hole. Select military officials will serve as caddies for PGA Tour pros on the 17th hole during Wednesday's pro-am.
25,000
Care packages sent by AT&T National to military personnel deployed overseas since 2009. Fans are encouraged to help assemble packages at the Military Care Package Tent. Golfers, fans, caddies, volunteers and officials can also write personal messages on the "We Salute Our Heroes" tribute wall near the 18th green.
9
Players in this year's field who have won 2012 PGA Tour events.
62
18-hole score shot by defending champion Nick Watney in the 2011 tournament's third round, the lowest round in the tournament's history. His third round tied Hunter Mahan's 62 fourth round in 2009 and Anthony Kim's 2009 round one, the year Tiger Woods won the event.
130
Tiger Wood's score after two days of the 2009 tournament, the best first 36 holes shot in the AT&T National Tournament. That year, Woods shot 64 on the first day, the lowest start by a winner.
3 p.m.
Live TV Coverage of the local golf event, including Golf Channel coverage Thursday and Friday (2-6 p.m.) and CBS live network coverage of the event on Saturday and Sunday from 3 — 6:30 p.m.
0 — Zero
Items permitted on the golf course, including zero backpacks, zero beepers, zero beverage containers or beverages, zero coolers, zero ladders, zero large camera bags, zero periscopes, zero picnic baskets, zero radios, zero signs, zero video cameras, zero televisions, zero firearms or folding-arm chairs (folding stools without arms or bags are permitted). See tournament website for complete golf etiquette. Players will only sign autographs after they have completed their rounds adjacent to the No. 9 and No. 18 scoring areas.