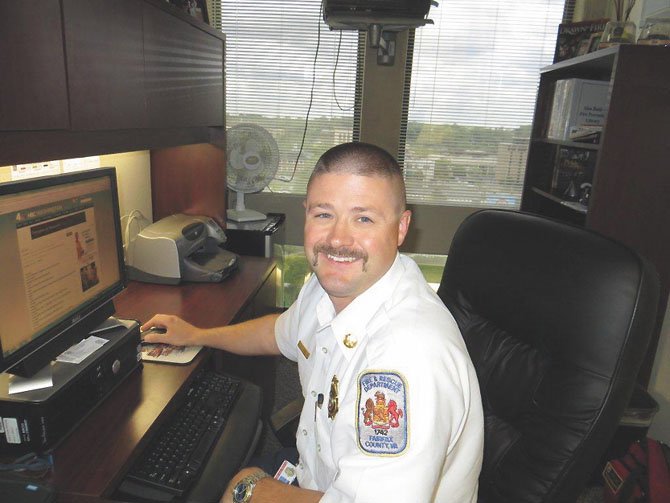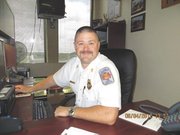 Centreville — Bill Moreland, a captain with the Fairfax County Fire and Rescue Department, didn't make it to a dinner date with his wife, last Friday. But he had a good excuse: He was busy helping save someone's life.
Department staff had held an Officer Leadership Academy, all last week, at GMU. Moreland, 37, left the June 22 graduation ceremony around 3:30 p.m. and was driving in his department car to meet his wife at Red Robin in Chantilly for an early supper.
He took Braddock Road to Route 28 to Chantilly to avoid some traffic. But as he arrived in Centreville, he noticed a light column of smoke. He later discovered it was coming from a townhouse at 120 Hoskins Hollow Circle in Centreville's Singleton's Grove community.
"As I got closer, it got darker and thicker, and I thought something was going on there," said Moreland. "I pulled over, looked through the trees and saw that the entire back of the house was on fire."
Using his portable radio, he reported the incident to the 911 call center. "I'd assumed someone had already called 911, due to the amount of fire and the volume of smoke, but no one had," he said. "So I told them I had an active fire and would get a better address by going into the subdivision to see what street it was on."
But as Moreland pulled up to the townhouse with his vehicle's red lights flashing and siren on, he saw people outside flagging him down. Although he didn't have his breathing apparatus with him, he did have his gear, so he quickly donned his protective coat, pants and helmet.
"The citizens there told me there was a lady still inside the house," he said. "So I took a second look at how bad the fire was in the back of the house and then entered. The smoke and heat were getting worse, and I noticed a couple other people — two men and a woman — trying to get the lady out of bed and into a wheelchair. We finished getting her in the chair together, and then I told them, 'Hey, we've got to get out now.'"
After they escaped, Moreland made sure the elderly, wheelchair-bound woman was all right. "I asked her if she was hurt or had any difficulty breathing," he said. "Then I heard the medic crew arrive from Station 17 [in Centreville] and turned the patient over to them. I also checked with the citizens who'd been inside because they'd breathed in smoke."
The fire engines had not yet arrived, so Moreland continued assessing the severity of the fire and relayed the information to the incoming units from Stations 17, 38 (West Centreville), 15 (Chantilly) and 21 (Fair Oaks). "I told them where the fire hydrants were and that the patient was outside," he said. "They already knew the fire hydrant locations, but I confirmed it for them."
The firefighters arrived around 3:55 p.m. and quickly began battling the blaze. The structure was a quad style containing four, two-story townhouses, and the firefighters brought the flames under control in about 30 minutes. Several other townhouses also sustained fire damage, displacing eight adults and one child. Two women — including the one in the wheelchair — were transported with non-life-threatening injuries to INOVA Fairfax Hospital.
The fire was mainly in the rear of the townhouse and the attic area, and fire officials estimate the damage at $160,000. Investigators say the fire was accidental and started outside in a mulch bed "when an unidentified passerby improperly discarded smoking materials into the mulch near the structure." They advise people to completely douse cigarette butts and ashes with water before throwing them away.
As for Moreland, he's a 15-year veteran of the Fire Department with a variety of experience. He's worked at the department's training academy, was the aid to Deputy Fire Chief Mike Reilly for three years and, this past year, was a firefighter with Station 40 in Fairfax, filling in as its HAZMAT officer when needed. Two weeks ago, he began his current job as a Fire Department spokesman.
And although he wasn't expecting an emergency situation after work, last week, he plunged right in, without hesitating. "The way I look at it, you can say you're off duty, but you never are," explained Moreland. "You're trained to help people and you always do what you can. It's my job and, to me, it's just doing the right thing."
Last week, after firefighters arrived at the Centreville townhouse and Moreland had made sure everything was OK, he called his wife and told her he wasn't going to make it to dinner, after all. So she met him at the scene and they went home together.
"I also volunteer [for the fire department] where I live, in Stevens City/Winchester, so this is what I do," he said. "I'm just glad I was able to be at the right place at the right time and help out."