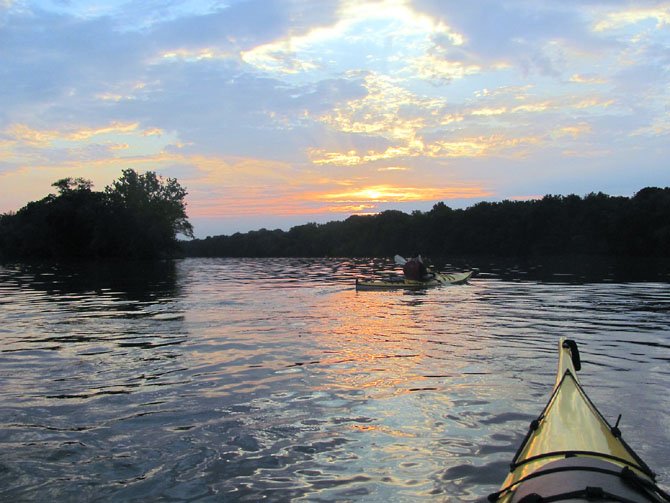 Reston — Play Potomac's Public Golf Course
Falls Road is the most played course in the Montgomery County golf system and is the annual host to the Montgomery County High School Invitational.
Falls Road Golf Course was completed in 1961 on 150 acres of former farmland east of the Village of Potomac. The layout offers four sets of tees, generous fairways and large greens. The front nine is a parkland type course and the back nine is more tree lined. The course measures slightly more than 6,100 yards from the back tees and plays to a par 70; it provides an enjoyable test for players of all abilities.
In 2003 Falls Road completed a renovation of all 18 holes. The newly constructed clubhouse offers multiple flat-screen TV's, a snack bar, and pro shop.
Falls Road also offers a 22-stall driving range that is lighted for evening use.
Tee times are available up to two weeks in advance online at http://www.mcggolf.com or by phone 301-299-5156.
Falls Road Golf Course, 10800 Falls Road, Potomac.
Take in Potomac's Natural Beauty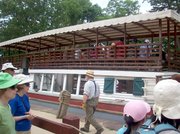 Great Falls 

More water flows over Potomac's great wonder, Great Falls, than Niagara Falls. For up close views, enter the C&O Canal National Historical Park on MacArthur Boulevard, walk 0.2 miles over the Olmsted Island Bridges to the overlook at the end. Bridges and boardwalks traverse a rare floodplain terrace environment, ending with an observation deck over the spectacular views of the Falls and the head of Mather Gorge.
Great Falls Tavern Visitor Center and Olmsted Overlook
11710 MacArthur Blvd.
301-767-3714 
Accessible for wheelchairs and strollers. 
The tavern is open year round, seven days per week from 9 a.m. to 4:45 p.m.
http://www.nps.gov/archive/choh/Visitor/Centers/GreatFalls.html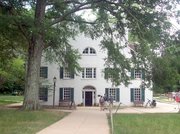 C&O Canal

Potomac is bordered by more than 12 miles of the C&O Canal, the towpath and the Potomac River. From Carderock to Riley's Lock, Potomac provides opportunities to enjoy the sights and sounds of the river while walking, biking, birding, taking a stroll with the children or grandchildren, or even taking a kayak lesson on the flatwater. Wildlife is abundant. All outdoor areas of the C&O Canal National Historical Park are open daylight hours year round.


Billy Goat Trail

Thousands hike the Billy Goat Trail every year, with access across from Old Angler's Inn (10801 MacArthur Blvd.) or at the Great Falls Tavern Visitor's Center (11710 MacArthur Blvd., 301-767-3714). The loop between the C&O Canal and Potomac River is less than five miles long, but allow plenty to time to stop and enjoy spectacular views of the rockface, Potomac River and sensitive vegetation and rare plants. The wild power and natural beauty of the Potomac River and its surroundings come alive on this hike that is marked by light blue trail blazes to keep visitors from trampling on Bear Island's many rare plants and sensitive vegetation. The trail can be rough and rocky with steep climbs. But the trail is one of the most popular hikes in all of the metropolitan area, which can be done by people of all ages.
Blockhouse Point

Locals who know the 630 acres of land that straddles River Road between Tobytown and Callithea Farm call Blockhouse Point the jewel of Potomac.
The natural and cultural resources at Blockhouse Point are among the most valuable in the country.
The park contains a variety of exceptional and rare habitat, including mature upland forest, floodplain forest, wetlands, streams and river-rock outcrops. Nine species of threatened, endangered or watchlist species of plants have been identified in the park, along with 25 species of fish, nine species of amphibians, four species of reptiles, 39 species of nesting birds and 10 species of mammals.
Blockhouse Point also tells a little of Potomac's history. During the Civil War, the 19th Regiment Massachusetts Voluntary Infantry built three blockhouses in 1862 to guard Violette's Lock and Pennyfield Lock, taking advantage of panoramic views from Blockhouse Point. Union sentries kept watch for Confederate movements across the river and at area fords.

The River Center (Lockhouse 8)

7906 Riverside Drive, Cabin John 
www.potomac.org
The Potomac Conservancy runs the River Center at Lockhouse 8, open weekends from 10 a.m. to 2 p.m. Nature walks, canoeing trips, art exhibits and canoe cleanup events are offered throughout the year. One goal of The Potomac Conservancy is to educate, inspire and engage Potomac watershed residents about the wonders of living near the Potomac River and its tributaries.
Summer Fun With Children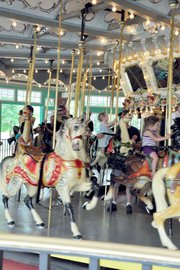 Glen Echo Park

7300 MacArthur Blvd., Glen Echo
Originally a Chautauqua retreat, then an amusement park, Glen Echo National Park now hosts a variety of arts, environmental and history programs. Classes are offered in pottery, painting, photography, glass art, silversmithing, textiles and other arts, as well as in dance, writing and music. 
The famous 1921 Dentzel Carousel in the center of the park has been giving rides to the public for 90 years.
Dancing in the Spanish Ballroom is a popular social event.
Adventure Theatre (www.adventuretheater.org, 301-634-2270) is one of the area's longest running children's theater companies, and the Puppet Co. Playhouse (www.puppetco.org) offers shows as well as was for children to be involved.


Cabin John Ice Rink

Cool off on the ice, open all summer. Call or check the website for hours for public skate times plus special family or adults only times. Lessons available. Seven days a week, morning, afternoon and evening skate sessions. Children 2-under are free; tots ages 3-4 are $3.50; Children ages 5-10 are $5.25; regular admission 11-up are 6.25; seniors are $5.25; skate rentals $3.25. And $52.50 discount ticket books.

10610 Westlake Drive, Rockville, 20852
301-765-8620 


Ride the Cabin John Miniature Train

7400 Tuckerman Lane, Potomac
301-765-8670
Children and adults can tour the woodlands of Cabin John Park while riding on the miniature train, a replica of the1863 C.P. Huntington, a 4-2-4T steam locomotive.
Open seven days a week in the summer, Monday - Thursday, 10 a.m.-5:30 p.m. (1st train at 10:30; last at 5:30 p.m.); Fridays, Saturdays, Sundays and holidays, 10 a.m.-7 p.m. (1st train at 10:30; last at 7 p.m.). Tickets are $1.75 each. Children age 2 and younger with a paying adult ride free. 

Locust Grove Nature Center

Cabin John Regional Park, 7777 Democracy Boulevard
301-765-8660
http://www.montgomeryparks.org/nature_centers/locust/VirtualTour.shtm
Locust Grove offers programs featuring the natural and cultural history of Montgomery County and the surrounding region. Visit the forest exhibit and hike one or all of many trails.
Play with the indoor oak tree exhibit. Find the animals that live in and near the tree; push the buttons to learn what they sound like.
Watch the birds feeding at the Wildlife Observation area.
Watch from inside, or go outside and watch through our wildlife blind. Quietly visit the small pond to look for frog eggs or tadpoles in spring.
Check out the Naturalist Garden. Spring brings bluebells and bulbs, while summer welcomes butterflies and blossoms galore. Fall is for seeds and fruit, while most plants lie dormant all winter.
Hike through the Upper Meadow. Look for Monarch butterflies, caterpillars and eggs on the milkweed in summer. Listen for wrens and bluebirds near the bluebird nest boxes. Watch for box turtles crossing the path in early morning.
Wander to the Lower Meadow. Watch for bats leaving the bat boxes in late afternoon or early evening. Sit under the shade of the 200-year-old sycamore and imagine what the park looked like when it was part of a huge farm. Watch as Cabin John Creek flows briskly by. You might spot minnows, crayfish, bathing birds, or signs of beaver activity. 


Visit Hadley's Playground at Falls Road Park

12600 Falls Rd. Potomac
Award-winning Hadley's Playground, a fully accessible playground that allows children of all ages and abilities to play together, is the highlight of Falls Road Park, 20 acres acquired in 1986.
http://www.montgomeryparks.org/parks_facilities_directory/fallsroadlp.shtm