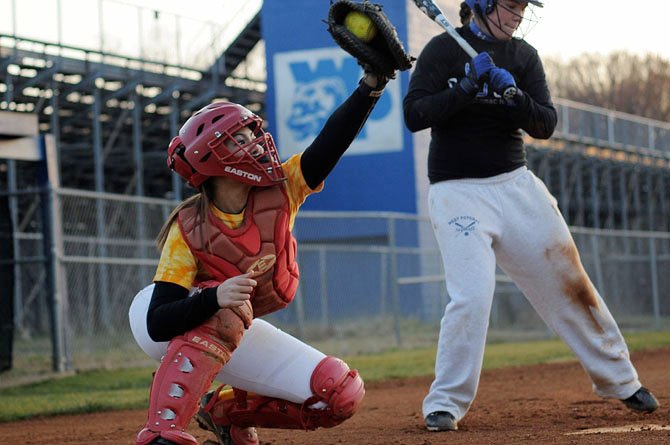 The West Potomac softball team entered the 2011 season loaded with talent and, as far as the Wolverines were concerned, possessed a clear path to the Patriot District championship.
It didn't take long for perennial power South County to issue West Potomac an early-season wake-up call.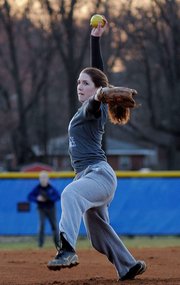 Hoping to hand the Stallions their first district loss since March of 2007, the Wolverines instead fell flat on their faces in front of multiple media outlets, losing 10-0 in six innings on their home field. South County won big despite losing seven starters from the previous season. The defeat was part of a 4-6 start for West Potomac, including a 3-3 district mark.
"Last year, a lot of the seniors wanted [a championship] so bad and the other kids felt so much pressure about it," head coach Craig Maniglia said. "It became the big elephant in the room: 'Uh, we're supposed to be winning and we've lost [several] games. What are we doing?'"
West Potomac regrouped, winning 10 of its next 11 en route to a spot in the district championship game, where the Wolverines would again face South County. While the Stallions had won big against the Wolverines early in the year, they were hardly unbeatable. South County had lost the regular season rematch to West Potomac and entered the tournament as the No. 4 seed with five district losses. Despite starting five freshmen, the Stallions edged the Wolverines 2-0 in 12 innings to win their fifth consecutive district title.
Nine months later, West Potomac is in a familiar situation. The team returns a talented core group of players and once again has what it takes to compete for the program's first district championships since 2006. This time, however, the Wolverines are taking nothing for granted, instead focusing on maintaining a one-game-at-a-time mentality.
"We know we have to earn it this year," said Maniglia, who enters his third season as head coach of the Wolverines. "Last year, we thought we had it before the season started and that's really a coaching problem. I let them fall into that trap. This year, we're going to try not to [think that way]."
"We know we have to earn it this year. Last year, we thought we had it before the season started and that's really a coaching problem. I let them fall into that trap. This year, we're going to try not to [think that way]."

— West Potomac softball coach Craig Maniglia
While not looking ahead is one thing, West Potomac has plenty of reasons to be confident, starting with seniors Morgan Maniglia, Jasmine Picini, Danielle McHugh and Maggie Grady.
Maniglia is a four-year starter and the team's No. 1 pitcher. An honorable mention All-Met selection by the Washington Post last year, Maniglia shut out South County for 11 innings in the district final before surrendering a pair of unearned runs in the 12th on her way to a hard-luck loss.
"I definitely feel like this is it and I think we have a lot to prove now that we've gotten this far," said Maniglia, describing how it feels to enter her senior season. "I want to go out with a bang and I know a lot of these seniors do, too."
Picini is a four-year starter who moved from third base to catcher last season and earned first-team all-district honors. Picini, who was also an all-district performer at third base early in her West Potomac career, will play college ball at Alfred University in New York.
"I think we're coming out with a better attitude this year," Picini said. "We're not expecting too much like we did last year."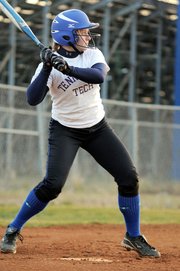 McHugh, a three-year starter, was an all-state selection in the outfield last season and will play collegiately at Tennessee Tech. While last year's slow start affected West Potomac's outlook on this season, McHugh pointed out that the Wolverines' ability to bounce back made them a stronger team. West Potomac's main confidence-building victory down the stretch came against 2010 state champion McLean.
Grady is a three-year starter who earned second-team all-region honors at first base during her junior season.
Fellow seniors Jackie Rhodes (third base) and Sammy Clifford (DH) are also projected starters.
Junior Hannah O'Neil will start at shortstop after transitioning from second base. Juniors Sydney Maniglia and Maddie Bolger are projected starters in the outfield.
Three freshmen made the varsity roster, including starting second baseman Nikki Minnis. Kate Gregory and Maddie Miller are utility players.
West Potomac will open the season at home against Mount Vernon at 6:30 p.m. on Thursday, March 15. The team's district opener is March 21 at T.C. Williams.
Picini said last year's heartbreaking loss in the district championship game will help the Wolverines in 2012.
"It's nothing more than a boost, though," she said. "I think we all took it as something positive — maybe not that day, we were upset — but I think this year we're a force to be reckoned with."