The members of the Art Guild of Clifton don't yet have a permanent space or funding, but both are in the works. They've got participating artists, talent and enthusiasm and, on Saturday, March 17, they're having a grand opening in the Town of Clifton.
"We're forming a new, nonprofit organization to support area artists by providing some studio space and a gallery," said Clifton's Mary Lee Peterson, the group's vice president, secretary and treasurer. "It'll be a place where they can work, display their art and meet with the public – which can view them at work and buy their art, if they want to."
The grand opening, which includes refreshments, will be from 6-9 p.m. in a borrowed space upstairs in the NOVA Music Center, 12704 Chapel Road in Clifton. Some 20 artists will participate and their work will be on display there through Sunday, March 18.
Attendees will see a variety of art, including oil, acrylic and watercolor paintings – landscapes, portraits, still lifes, etc. – as well as sculptures, jewelry, pottery and photography.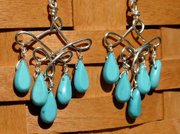 "We're excited about the Art Guild because we believe it adds another dimension to the town," said Peterson. "People could come to Clifton for lunch and visit the gallery while they're here. We'll give classes and hold events, such as "en plein aire," which means, 'in the outdoors,' so people can see the artists painting town scenes outside."
She said the group will also hold art shows in other places, such as Clifton's Paradise Springs Winery. And eventually, it might even be part of a combined event with the performing arts, such as actors, dancers and musicians.
Meanwhile, said Peterson, "We're trying to raise funds to rent a gallery space as soon as possible. We found a space in Clifton that we like, but nothing's settled, yet."
ANYONE INTERESTED in donating to the cause may contact the art guild's president, Merle Engel, at 703-815-2716 or merle@mindspring.com. Besides Peterson and Engel, Clifton's Chuck Rusnak is an at-large board member, but the idea for the guild was Engel's and Peterson's.
"Merle has a background in art, knows a lot of artists and saw a need for something like this in Clifton," explained Peterson. "I was an art major in college and I make jewelry, but I'm too busy to lug it from show to show. So we thought, 'Wouldn't it be nice to have a place where people could see and buy a variety of art that would be in one spot all the time?'"
For example, she said, "We have a really amazing person who paints on silk and it's just fabulous – very detailed and delicate with blazing colors. We also have a chainsaw sculptor who does wonderful things with wood." Regarding her own jewelry, Peterson said it's all made with real, precious and semiprecious gemstones and sterling silver. "I wrap wire around the stones, and necklaces and earrings are my specialty," she said.
As for Engle, she describes her art as eclectic with an international flair. "The pieces are all one of a kind," she said. "I make large necklaces and earrings and my stones are often from China and Egypt. I also make pottery plates and bowls with an Italian, Tuscan flair."
ENGLE, who taught art years ago at Clifton Elementary, is delighted with the birth of the new art guild. "This has been a dream of mine almost since I first looked at Clifton as a place to live, 15 years ago," she said. "I wanted to open a gallery here where artists could display, show and sell their work. And I'd like each artist to teach [their craft] so young people from Clifton and the surrounding areas could come and explore their talents, express themselves and learn a little more about art."
"We envision it as a mini Torpedo Factory or Lorton Workhouse," she continued. "We're not in competition with them; we're just serving a different population in a walkable community." More artists are also welcome to join. Currently, said Engel, "I'm looking for weavers and people who make art to wear."
Peterson said they hope the new art guild will really enhance and complement the town. "I also want us to support one another as artists to reach whatever goals we set," Engel added.