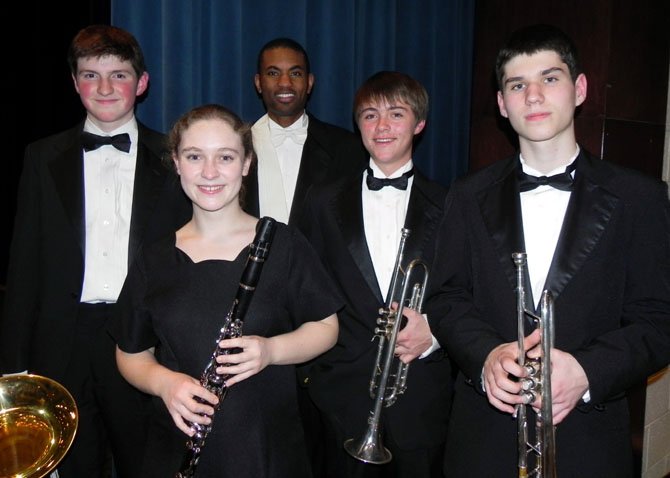 Alexandria — The T.C. Williams Music program set what could be a performing arts record for the high school when 10 of its top musicians were selected to compete for chairs in the All-State Virginia Band and Orchestra. Statewide auditions were held Saturday, Feb. 25 at James Madison University.
TCW students earned their ticket to JMU by winning top chairs in auditions for District 10 Honors Wind Ensemble, which includes public and private high schools in Alexandria, Falls Church and eight high schools in southeastern Fairfax County.
The TCW All-State audition team included Kate Aplin - clarinet; Nate Conrad - euphonium; Christian Contreras - tuba; Emily Dooley - clarinet; Jonathan Forbes - trumpet; Kahlil George - percussion, Maria Jones - trombone; Alexander Psaltis-Ivanis - trumpet and Bobby Warden - trombone. The TCW Band program is directed by Brian Thomas and Doug Rogers. Missing from the photo is Cameron Lyons who auditioned on the bass and represented the TCW Orchestra.
After returning from the auditions the TCW team learned that five of its members had earned chairs in the 2012 All-Virginia Concert Band. The new Alexandria All-State Band members include TCW senior Kate Aplin, sophmore Nate Conrad; junior Jonathan Forbes and freshman Alexander Psaltis-Ivanis. Junior Maria Jones was selected as an alternate. The "Titan Five" are the first TCW musicians in many years to receive "All-State" recognition by the Virginia Band and Orchestra Director's Association.
On April 12-14 the students will take their instruments and Titan Pride to Richmond, to train with other top high school musicians in preparation for a special April 14 public concert. The performance of the 2012 All-Virginia Concert Band will be conducted by Dr. John Carmichael, director of bands and associate director of conducting at the University of South Florida. The concert will take place at James River High School in Richmond.