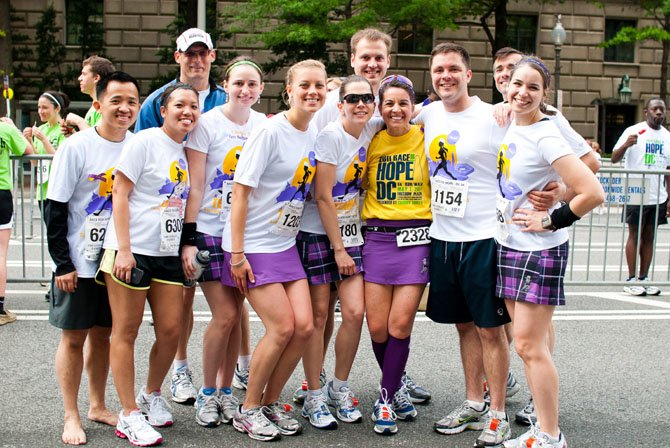 After surviving breast cancer, chemotherapy and radiation, Centreville's Vanessa Spiller is doing well and hopes to soon receive a clean bill of health from her doctor. Fair Lakes resident BethAnn Telford was diagnosed with a Stage III brain tumor in 2005, and is still fighting for her life.
And on Saturday, March 24, at the Fairfax Corner Shopping Center, the Rev3 Run Rogue 5K will be run in their honor. All proceeds will be split evenly between Life with Cancer www.http://lifewithcancer.org/ and the National Brain Tumor Society http://www.braintumor.org/.
But the two, local women won't be sitting on the sidelines. Both are athletes and, on race day, they'll be running in the 5K. "Vanessa and I will be at the starting line clad in superhero capes, appropriately marked with the words, 'Beat Cancer,'" said Telford.
The pair will start the race 30 seconds before anyone else, and then — for every 5K participant who passes them — one of the event's sponsors will donate $1/participant in support of the two charities.
Rogue Racers and Rev3 Adventures are putting on this fund-raiser. Rogue Racers is a Fairfax-based, running/triathlon club. Rev3 Adventures puts on adventure races in, for example, mountain biking, running and canoeing.
The March 24 event promises to be fun and family-oriented. Participants may walk or run a USATF-certified 5K course at 8:30 a.m., or participate in a 1K kids' fun run at 8 a.m., before the main event. Both courses start and end in front of Coastal Flats restaurant. Strollers are allowed in the 1K, but no dogs in either race.
Cash prizes will be given to the top three male and female finishers, and the first-place winners will also receive coupons for a free pair of Brooks shoes. There'll be age-group awards, too, plus over-40 cash prizes. Sign up at http://www.runrogue5k.com/Run_Rogue_5K/Race_Info.html. Donations may also be made there. Registration is $30, 5K; and $15, 1K, ages 8 and under.
The fun includes Starbucks pastries and coffee, face-painting and music. Every finisher will receive a Ben & Jerry's ice-cream cone, and every child in the 1K will get a medal.
Both Spiller, 46, and Telford, 42, have been good friends for several years. They run and train with Rogue Racers for various competitions, including the upcoming Boston Marathon in April.
In September 2011, Rogue Racers decided to create a 5K for two of its members — Spiller and Telford — and give 100 percent of the proceeds to charity. Spiller's half will go to Life with Cancer because it helped her so much while she battled breast cancer. Telford's nonprofit fund-raising organization, Team BT, which raises money for the National Brain Tumor Society (NBTS), will receive the other half.

Since her diagnosis, Telford's undergone two surgical resections — plus countless hours of rehabilitation to regain her speech and physical function after each one. But she still works full time for the U.S. Government Printing Office, has run the Marine Corps Marathon and participated in endurance races including two Ironman competitions.
She recently qualified for the Boston Marathon for the second time since being diagnosed. Telford also actively campaigns for the NBTS and has raised more than $300,000 for it. But her health problems are far from over. She has trouble sleeping, gets bad pains after eating and, she said, "My brain isn't telling other parts of my body what to do."
Her doctor at Johns Hopkins Medical Center plans to tackle these issues; but first, said Telford, she's running the Boston Marathon, April 10, for her third time. "I was on a walker, the first part of January, after surgery for a pacemaker to regulate my bladder," she said. "So my doctor knows how much it means to me."
She's also looking forward to the Rev3 Run Rogue 5K. "Holly Jahshan, race director of Rogue Racers, is one of my dear friends, and she surprised me with this race," said Telford. "She said it would raise money for Team BT for research to save my life and others'. Vanessa, also a dear friend, has been there for me at my worst, and still is, so the race is for both of us."
Telford's also a fan of Life with Cancer. "It's a great organization and I still go there for counseling," she said. "There's a brain-tumor support group that meets once a month. And I run the Virginia Run Turkey Trot — which also benefits Life with Cancer — every year in a ballerina tutu."
She raises money for NBTS from December through May. "I'm tired, but I can't give up," she said. "For example, the other day, I met a little girl, Gracie, who's 6 and struggling with brain cancer — so that's why I have to keep fighting. Everything I do goes right to the charity, and my friends help keep me going. They send me e-mails and inspirational notes every day."
"My motto is 'Never, never give up,'" said Telford. "And when I get down, I look at those words, posted all over my house. My favorite word is 'hope' so, if I get down, I just look at the inner side of my left wrist where it's tattooed."
She's also thankful for her friends. "Holly is amazing — she went to chemo with me," said Telford. "And when I was so sick, Vanessa brushed my hair, told me it was going to be OK and helped me run again. I couldn't pick a better person to fight cancer with than her."
Telford said each event she participates in helps raise awareness. "Team BT has so many people who've either lost someone to a brain tumor or are struggling with it, themselves," she said. "I raised $72,000 for it last year."
Because of her efforts, NBTS has already made two, brain-tumor research grants in Telford's name. One went to the Cleveland Clinic in 2009; the other, to the University of Florida in 2011.
To prepare for the Fairfax Corner event, she ran a four-mile race last Saturday in Clarendon and will run a half-marathon this week in Virginia Beach. And she's delighted that more than 700 people have already registered for the Run Rogue 5K.
"When Holly first told me about this race, I thought about how all the people who are suffering — especially the little kids — are going to be excited about it," said Telford. "And what better way to support people with cancer, help both NBTS and Life with Cancer and get in shape for spring, all at the same time?"
Since cancer touches so many lives, Rogue Racers is asking people to share their stories of inspiration and perseverance at the race's Web site, http://www.runrogue5k.com/Run_Rogue_5K/Our_Heroes.html. "A woman wrote about how her young son has a brain tumor and is going to run in the 1K," said Telford. "She was so pleased that there was something for him. That makes me feel so good."