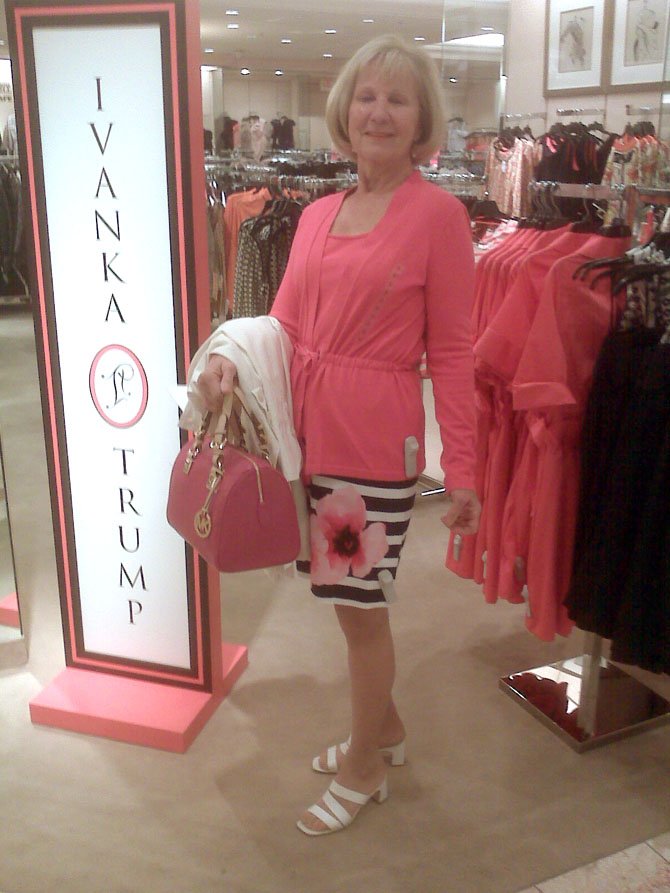 Food, stylish clothing and fun are on the menu for the Fairfax Salvation Army Women's Auxiliary's upcoming fund-raiser. It's slated for Friday, March 30, at the Waterford in Fair Oaks (across from Fair Oaks Mall).
The event is the 32nd Annual Fashion Show/Luncheon/Silent Auction to benefit the Fairfax Salvation Army. The silent auction begins at 10:30 a.m., and lunch — catered by the Waterford — is at noon. Tickets are $40; contact event Chairman Angela Ganey at 703-250-5809 or via angelaganey@verizon.net.
Lord and Taylor is providing the fashions and, this year for the first time, men will also model. At least seven women and three men will each model three different outfits for casual wear, daytime and evening soirees. In addition, musical entertainment will be provided by opera star Angela Knight, currently in her 13th season with the Washington National Opera.
Regarding the silent auction, attendees will be able to bid on a wide assortment of items, including gift cards from local restaurants such as Ruth's Chris and the Great American chain, from Wegmans grocery store and for services provided by local merchants. Merrifield Garden Center is offering gift cards for garden accessories such as plants and decorative statues.
Also up for bid will be new jewelry — pearls, earrings, bracelets, necklaces; as well as a table full of donated, slightly used jewelry. There are several Coach bags, Vera Bradley accessories, plus autographed photos of celebrities, including actor Mark Wahlberg, Washington Redskins football players, soccer star Brandi Chastain and Olympic gymnast Kerri Strug.
Several gift baskets will also be available to bidders, such as Easter baskets of candy and stuffed animals; a basket of large-print, best-selling, mystery novels; plus a basket of bread donated by Great Harvest Bread Co. In addition, there'll be a Build-a-Bear and a gift certificate to dress it, as well as a large floral painting from a Vienna gift shop.
"We have a really nice variety of things," said silent-auction coordinator and Auxiliary Treasurer Connie Lauther of the City of Fairfax. "I'm hoping to have at least 75 silent-auction items."
Auxiliary President Ida Mae Speeks is also looking forward to a successful event and hopes it raises at least $6,000 toward the Fairfax Salvation Army's many programs that help families in need in the local area. The group provides utility and rent assistance, food, clothing and furniture on an emergency basis, as well as toys and bicycles to needy children at Christmastime.
"This fashion show is our only fund-raiser for the things the Auxiliary supports," said Speeks. "These include a Mexican orphanage and our school-supplies and backpack program for local students. And part of the ticket cost is tax-deductible."
The Auxiliary has some 15 members currently, and Speeks, 78, has played an active role in it for more than 20 years. And she's got a good reason.
"My papa was in WWI and died when I was 17, but he'd told me about being in the muddy trenches in France," she said. "He said they'd be so cold and wet and, whenever they got out, a doughnut and coffee tasted so good. Sometimes, the Salvation Army brought them and, sometimes, another organization did — but the Salvation Army never charged the soldiers. So my papa always told me, 'If you ever have anything to give, give it to the Salvation Army.'"
Years later, said Speeks, "Two church friends, now gone, recruited me for the Salvation Army, and I do believe in the good works it does. And once I got involved, I was hooked. And this fashion show fund-raiser is so worth doing — the whole point is to help others."
She said the Salvation Army provides birthday cakes to men in a Fairfax County substance-abuse rehab program. And at Christmas, it receives stockings filled by local churches and community residents, sorts them into age groups and distributes them to needy families, along with toys. The Salvation Army also helps send children to camp and purchases music and instruments for the Youth Music Program.
That's why the auxiliary hopes the upcoming fund-raiser yields as much money as possible to continue supporting all the Salvation Army's charitable programs. To become a sponsor, buy an ad for the event's program or donate gift certificates and merchandise for the silent auction, contact Ganey at angelaganey@verizon.net or 703-250-5809.