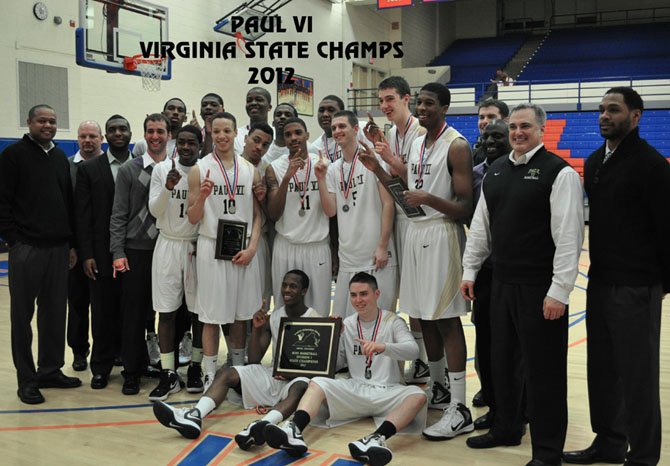 Fairfax — Both the girls' and boys' basketball teams from Paul VI Catholic High School won their respective Virginia Independent Schools Div. 1 Championships on Saturday, March 3.
The Paul VI Lady Panthers defeated Liberty Christian Academy from Lynchburg to capture the team's sixth consecutive state crown. The Panthers overcame a slow start offensively but clung to a narrow lead midway through the second quarter. Paul VI then took control of the contest when junior guard Marlena Tremba scored four 3-pointers within a four minute span to spark the Panthers. A team effort led to a final score of 67-45.
The Lady Panthers placed two players on the All-Tournament Team - Marlena Tremba and Lauren Cox. Taking the tournament's Most Valuable Player honors was sophomore Ariana Freeman, who led Paul VI in scoring (25.6 points per game) and was a dominant force on defense.
No other basketball team in the history of the VISAA has won six consecutive state championships. The Lady Panthers also tied their own school record for most wins in a season with 23 and finished fourth in the WCAC for the year.
ON THE BOYS' SIDE, the Panthers' championship game promised to be a battle from the jump as Paul VI squared off against a tough Episcopal team from Alexandria. Paul VI had played Episcopal earlier in the year – a non-conference game in which the Panthers overcame a 14-point deficit late in the third quarter in a stirring comeback win.
Paul VI players were determined to make sure that, in Saturday night's state tournament finals versus the Maroon, there would be no need for a similar comeback. The Panthers, in the finals, controlled play over the final three quarters. They held a 10-point lead with just over a minute to play and held off Episcopal for a 62-61 state championship game win. (A 3-pointer at the buzzer by Episcopal provided the one point final margin).
Paul VI's Patrick Holloway provided the second half spark for his team, scoring all 16 of his points after intermission, and Tilman Dunbar posted 12 points, 11 assists, and four rebounds. Marcus Derrickson recorded a double-double with 10 points and 10 rebounds.
The All-Tournament Team included Coleman Johnson, Patrick Holloway and Marcus Derrickson. Derrickson was also named Tournament MVP.
The Paul VI boys were scheduled to compete in the the prestigious Alhambra Catholic Invitational Tournament, held at Frostburg State University. Additionally, the Panthers' recent win in the WCAC tournament earned them the right to play in the Abe Pollin City Title Game. That game is scheduled for Tuesday, March 20 at the Verizon Center against Coolidge.