Mount Vernon — Frustration could have gotten the best of the T.C. Williams boys' soccer team. After a few missed goal-scoring opportunities and disagreements with officiating, the Titans trailed 1-0 late in their season-opening match at Mount Vernon.
But rather than give in, TC found a way to put one in the net and salvage a tie against a team that reached the regional quarterfinals each of the last two seasons.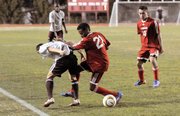 Senior forward Abdel Al Nimiry headed in a goal in the closing minutes of regulation and T.C. Williams finished in a 1-1 tie with Mount Vernon in both teams' season opener on March 13. The Majors finished last season 14-3 and enter the 2012 campaign with state tournament aspirations. TC head coach Martin Nickley said he was pleased with the Titans' effort.
"It was just nice to see us perform so well so early in the season," he said. "We really want to work to get off to a fast start. We ran a lot of guys out there tonight and every one of them showed that they were at that level and had that pace and that drive to play well for us, and they really did."
Senior defender Manuel Benites said if TC's effort was any indication of how the season is headed, the Titans have a bright future.
"We didn't give up," he said. "They came out strong, they scored first and we bounced back. It's a challenge for us at the beginning of the season to see how our team is going to be. We're looking pretty good, too. I think TC should be right there with Mount Vernon."
"We didn't give up. They came out strong, they scored first and we bounced back."

— TC senior defender Manuel Benites
Benites is part of an experienced group of Titans leading a TC program in search of its first Patriot District championship since 2008. One of Benites' strengths is his ability to produce long sideline throw-ins.
"Every now and then you get a guy that can just throw it a mile and you're happy to have him," Nickley said. "He's just an excellent athlete and we are fortunately the recipient of a very dangerous throw-in because he puts it in at a flat trajectory."
Senior forward Alex Mansaray was the team's leading goal-scorer last season.
"He's all over that field," Nickley said. "He didn't stop out there. When you get that kind of leadership by example, [it's a good thing]. We had a number of players doing that."
Mansaray does not lack confidence.
"Everyone expects me to score in each game I play," he said. "I know I didn't score today, but I did really great and I'm going to look up to the games coming up, and I'm going to do really good. I believe in myself."
Al Nimiry, senior midfielder Kelvin Marin-Soli, junior midfielder Mauricio Salvatierra and junior defender Neil DeWakar are also key players for the Titans.
The Titans will open district play against West Potomac on April 10.