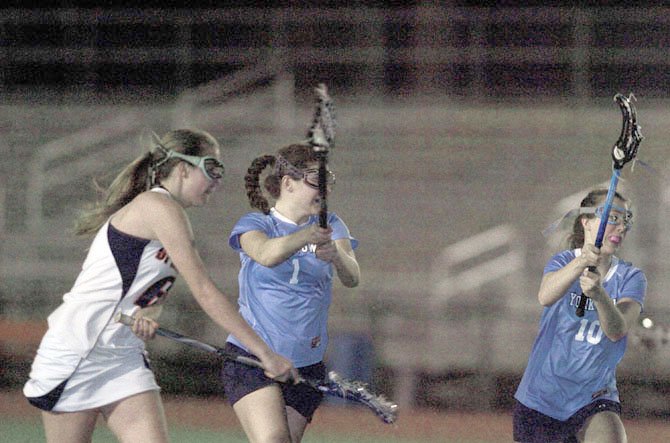 Springfield — The Yorktown girls' lacrosse program has dominated the National District to the tune of six consecutive championships. While keeping the streak alive is important to the Patriots, Yorktown enters the 2012 season with a bigger goal in mind: be competitive against teams outside of the district.
The Patriots got their first crack at a non-district opponent on March 12 when they traveled to West Springfield for their season opener. Facing a program that lost in overtime of the 2011 Patriot District final, Yorktown controlled the first 17-plus minutes and jumped out to a 6-2 advantage. But the Spartans proved resilient, responding with five consecutive goals and 10 of the next 13 en route to a 12-10 victory.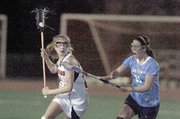 Yorktown head coach Crystal Morgan said she was pleased with the way the Patriots opened the game and, while she wanted the win, a two-goal margin showed "we could have had them." Last year, Yorktown went 2-7 against non-district opponents, including a 17-7 loss to Robinson in the opening round of regionals. In 2010, the Patriots were 7-2 outside of the district, including a win against Marshall in the opening round of regionals, but lost to Annandale by one goal in the quarterfinals.
"I know there are a lot of [National District] teams that are going to be gunning for us this year," Morgan said. "I think our main team goal this year is to prove to the region that we're a contender and that we can compete with those teams that are outside of our district. A lot of people don't give our district respect. I feel like we're right there to compete with a lot of these region teams and we just need to prove it to them."
"A lot of people don't give our district respect. I feel like we're right there to compete with a lot of these region teams and we just need to prove it to them."

— Yorktown girls' lacrosse coach Crystal Morgan
Morgan enters her second season as Yorktown head coach. She was the program's third head coach in three years when she took over in 2011, but kept alive the Patriots' streak of district titles.
"I'm here to stay," Morgan said.
Senior midfielder Ella Richardson is playing for the same head coach for consecutive seasons for the first time in her four-year varsity career.
"The dynamic, it's definitely more settled," Richardson said. "You don't expect something new. Out of all of them, obviously I know [Morgan] the best, so I guess it's easier to work with her because I've known her two years."
Richardson is one of three senior captains, along with attack Maddy Ernesto and defender Rachel Kappel. Richardson and Ernesto each scored a goal against West Springfield.
Junior midfielder Jennie Basile led Yorktown with four goals.
"I always expect for [Basile] to be an offensive threat," Morgan said. "She plays offense, defense, she can see the field, she's always there for the connection passes and she's a great shooter, too."
Basile's second goal gave Yorktown a 6-2 lead with 7:16 remaining in the first half. Her third goal tied the score at 7-7 less than two minutes into the second half.
"Inside the region, not many teams know we're a team to be fought with," Basile said, "but we really bring it."
Junior Meaghan Galvin scored two goals for Yorktown and junior Tori Haling and sophomore Emily Spack each scored one. Junior defender Sarah Acs is also expected to be a key contributor this season. Freshman Erin Morrissey started in goal for the Patriots.
The Patriots will open district play a home against Mount Vernon at 7:15 p.m. on Friday, March 16.
More like this story