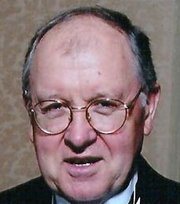 Dick Warren Hays, 78, a former Deputy Assistant Secretary at the Department of Education, community leader and bicycle activist, died of complications associated with Alzheimer's disease on Feb. 25, 2012 at his home in Castle Rock, Colo. He moved to Colorado from Reston in July 2010.
Hays was born in Huntington Beach California and grew up in Orange County, Calif. He graduated from Redlands University in 1956 and attended a semester program at American University in Washington D.C., where he met his wife Janet Kuhl. They were married in 1956. Hays obtained a master's degree in Public Administration at the University of California, Los Angeles (UCLA) and did graduate work at Michigan State University. He worked for the Navy in China Lake, Calif., from 1957 to 1963 and then for the Department of Defense and Stanford Research Center in Washington D.C. before moving on to the Department of Education (initially when it was part of the Department of Health, Education and Welfare). He was involved in the community organization Kiwanis in China Lake, where for while he was also known as the Twist King. Hays moved with his family to Reston in 1966. The Hayes' were one of the first families of Reston and both Mr. and Mrs. Hays were deeply involved in community affairs there. Hays was the first president of the Reston Community Association. He was also active in local Democratic politics, founded the Reston Bicycle Club with Janet, and helped get the Reston triathlon off the ground. In 2004, Mr. and Mrs. Hays were awarded the Best of Reston award for the lifetime community service in Reston.
Hays' great passion was bicycle riding. He and Mrs. Hays played an important role in getting the W&OD rail line transformed into the W&OD Regional Park. Mr. And Mrs. Hays also organized long-distance bicycle rides that went through almost every county in Virginia and led bicycle trips throughout the United States and in several foreign countries, including Mexico, France and Great Britain. Hays is survived by his brother Jess Hays, who lives in Sacramento, Calif., and three sons: Jeffrey Hays, wife Akiko and daughter Saya, who live in Saga, Japan; Steven Hays, wife Daphne, daughter Jessica and son Austin who live in Buenos Aires, Argentina; and Michael Hays, wife Gazala and sons Gibran and Faaris who live in Castle Rock, Colo.
A memorial service will be held at the Reston Community Center in Hunters Woods at 2310 Colts Neck Rd. in Reston at 1 p.m. on Friday, March 23. Arrangements for his cremation have been taken care of by Parker Funeral Home in Parker, Colorado. In lieu of flowers, a memorial contribution may be made to Lance Armstrong Live Strong – National Mail Processing Center, P.O. Box 6003, Albert Lea, MN 56007-6603; Alzheimer's Association – P.O. Box 96011, Washington, DC 20090-6011; Colorado Hospice, LLC – 4891 Independence, Suite 215, Wheat Ridge, CO 80033