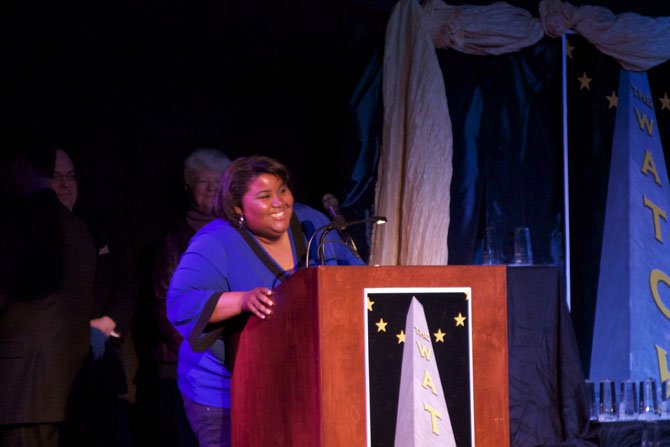 Chaz Coffin is an award-winning actor. Not only did he receive a Cappie last year as part of the ensemble in Westfield High's production of "Joseph and the Amazing Technicolor Dreamcoat," but he's now the proud owner of a WATCH (Washington Area Theatre Community Honors) award.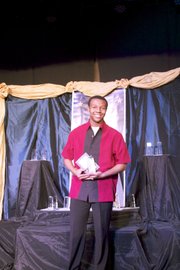 This program recognizes excellence in community theater in the Washington Metropolitan area, and Coffin was named Outstanding Featured Actor in a Musical. He won for his portrayal of the character, Seaweed Stubbs, in The Alliance Theatre's musical, "Hairspray."
The ceremony was Sunday evening, March 11, at the Birchmere in Alexandria, and Coffin and his castmates also performed a number from the show. His prize was a glass trophy resembling the Washington Monument, with the WATCH logo inside and his name and winning role engraved in gold on the outside.
"It's amazing," said Coffin. "It really meant a lot to me to win it, especially in my senior year. Being so young, I didn't think I was on the same level as the other nominees, who were adults. It was awesome — a great moment."
He's the son of Carolyn and Kenneth Coffin of Centreville's Rocky Run community and has a sister, Chelsea, 21. He plans to major in either business or arts administration in college, but will also continue acting and hopes more awards will follow.
So what did he think of the legendary Birchmere? "I'd never been there before, but I liked the atmosphere," said Coffin. "It was really cool."
Westfield grad and theater alum Jade Jones also won a WATCH award Sunday for Outstanding Featured Actress in a Musical. She played Nell Carter in the Elden Street Players' production of "Ain't Misbehavin'."