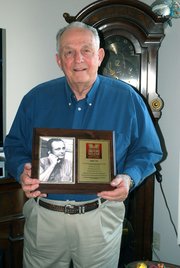 At the end of 2011, Mclean High School inducted Roger Cole into its Athletics Hall of Fame, as part of the first class of Hall of Fame inductees ever at the school.
Cole spent over 20 years at McLean and was one of the first teachers there in 1955, the year the school was founded. Between 1955 and 1959, he worked as assistant basketball, baseball and football coach for the Highlanders.
During that period he also taught physical education, earning Teacher of the Year honors at one point. He sponsored a class of sophomores for three years, and took a class of 150 seniors on a trip to New York City and back, before leaving Mclean High in 1959.
In 1969 he came back to the school and was the head football coach for three years - between 1969-72 - during which time Cole also coached track and field and gymnastics, both the boys and girls.
He became McLean's director of athletics in 1972 and held that position until 1986. Cole was not only involved in athletics, but also supervisor of the custodial staff, as well as a part of the drama and music department at the school.
As director of athletics at Mclean High School, he was somewhat of a pioneer when it came to soccer in Virginia, as he ran the first two soccer state championships ever played in the state in the 1980s.
Cole says that he is very proud of his time at Mclean High School, of the teachers and the students, and notes that it´s a very fine school.
He adds that he is also proud of the athletics program at the school, something which he was a crucial part of as both a coach and a teacher involved in several different sports and as athletic director for 14 years.
Cole is currently a resident of the Ashby Ponds Retirement community in Ashburn, where he manages the resident history group and organizes events with notable speakers, ranging from genealogists to resident World War II veterans. Outside of Ashby Ponds he is enjoying time as a golf players' assistant at Landsdowne resort.