Pearl S. Buck once said that the test of a civilization is in the way that it cares for its helpless members. For Senior Services of Alexandria Executive Director Janet Barnett, the mission to help Alexandria care for some of the city's most vulnerable citizens is vital and will take center stage as the annual Generation to Generation Gala honors three families for their legacy of service.
"The gala is a chance for us to honor the contributions three special families have made to our community," said Barnett. "It is also our biggest event of the year, raising desperately-needed funds to support the programs we provide to our seniors."
Scheduled for March 31 at the Mark Center Hilton, proceeds from the gala will help support services such as Meals on Wheels and the Senior Resource Center, which provides direct and indirect services to seniors and their adult children.
"Senior Services is committed to helping those we serve age with dignity," Barnett said. "We hope that those individuals we are honoring — Rosa Byrd and Patricia Yancey, Harlene Clayton and Stephanie Clayton, and Patsy Ticer and Margaret Janowsky — will serve as inspiration to others to reach out and help the less fortunate in our community."
ROSA BYRD AND PATRICIA YANCEY
For more than 50 years, Rosa Byrd has lived and worked in Alexandria spending countless hours as an advocate for the community.
"My initial volunteer activity was in the Alexandria City Public School System," Byrd said. "I was a member and officer of PTAs at Cora Kelly Elementary School, Francis Hammond Middle School and T.C. Williams High School. My involvement in the educational system expanded to include PTA Council, TCW Athletic Boosters, African American Advisory Council, Superintendent Search Committee and NEA representative."
"Under the influence, guidance and tutelage of my mother, I am an active and involved citizen."

Patricia Yancey, daughter of Rosa Byrd
A resident of the Lynhaven neighborhood, Byrd served as an executive officer for the Lynhaven Citizens Association for 35 years and has been active in numerous organizations dedicated to battling drug abuse and providing help for youth recreation.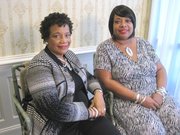 "My activism expanded to include membership in VPAG, the Virginia Prison Advocacy group, Teen Pregnancy Prevention Panel and chairwoman of Alexandria United Way," Byrd said. "I am also a presidential correspondence volunteer to President [Barack] Obama."
Byrd's civic service was not lost on daughter Patricia Yancey, whose service began as a child attending Alexandria public schools from kindergarten to the 12th grade. Yancey was a cheerleader and Girl Scout, and a member of the drill team, marching band and flag corps.
"Under the influence, guidance and tutelage of my mother, I am an active and involved citizen," Yancey said. "My mother and I joined countless others in yearly marches demanding that Dr. Martin Luther King Jr.'s birthday be made a national holiday. We attended the Million Man March in Washington and the Million Woman March in Philadelphia and we were present at the dedication of the Martin Luther King, Jr. Memorial on the National Mall."
Following in her mother's footsteps, Yancey moved to the Lynhaven community and became active in community affairs. She has assisted in neighborhood cleanups and dinners to Carpenter's Shelter and the National Night Out events.
Yancey currently serves as assistant precinct judge for the Cora Kelly precinct where her mother is chief judge and 21-year-old daughter Chanel is an election officer.
"My family is the crown jewel of my life," said Byrd, who recently retired after 30 years with the Alexandria City Public School System. "Jack and I recently celebrated our 50th wedding anniversary and are blessed with two children, Patricia and Julious, and three grandchildren — Chanel, Jordan and Jalen."
HARLENE CLAYTON AND STEPHANIE CLAYTON
A native of Crisfield, Md., Harlene Cullen Clayton first moved to the Parkfairfax neighborhood of Alexandria as a young bride in 1967. Along with her husband Jack, she has been an active member of Beverley Hills United Methodist Church for more than 42 years and has dedicated her life to community service.
For a number of years, Harlene Clayton was active in the League of Women Voters and served as president of the Charles Barrett PTA and the PTA council. An active member of the Alexandria Democratic Committee, she managed six winning campaigns and was a volunteer in the Clinton White House.
She has been active in the Alexandria Community Mental Health Association and served as a volunteer for Meals on Wheels, ALIVE! and Carpenter's Shelter.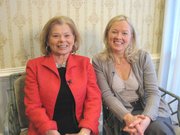 Professionally, Harlene Clayton worked as aide to former City Councilman Donald C. Casey; was legislative aide to Delegate Marian Van Landingham for 17 years, and served as an aide to former Councilman Tim Lovain.
For eldest daughter Stephanie Clayton, her earliest memories of "volunteering" usually involved local Democratic politics, where she was often recruited by her campaign manager mom to leaflet a neighborhood or even tap dance at a musical fundraiser. Following in her mother's footsteps, she volunteered as a candy striper at Alexandria Hospital while her mom was an active member of the Twig. She was active in her youth group at Beverley Hills Church, where she helped build the community playground that stands today.
A co-president of the T.C. Williams High School class of 1985, Stephanie Clayton graduated from the University of Virginia before returning to Alexandria to manage the local headquarters for Douglas Wilder's gubernatorial campaign.
Currently an event planner, Stephanie Clayton continues to give back through her work with the Scholarship Fund of Alexandria, where for nine years she has served as a trustee. Lending her event planning expertise, she helped transform the SFA Spring Gala into its most successful fundraiser, where $1.5 million has been raised for its operating budget. For her efforts, she was recently honored with the Scholarship Fund's "Patron Saint" award for her longtime dedication to the Fund.
PATRICIA S. "PATSY" TICER AND MARGARET TICER JANOWSKY
It's hard to remember when Patricia "Patsy" Ticer was not a fixture in Alexandria. A 1951 graduate of George Washington High School, she has lived in the city since she was in the seventh grade.
As a young bride to husband Jack, Ticer first became engaged in civic affairs as a Yates Gardens Homeowners Association officer. She went on to join the Old Town Civic Association and has served on various PTA boards as well as the Board of Alexandria Hospital.
Her first foray into politics was as an aide in her husband's campaign for Alexandria City Council in 1955. Ticer herself was elected to Council in 1982 and became the city's first female mayor in 1991, a position she held until her election to State Senate in 1995.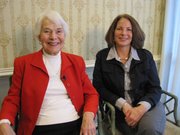 Despite her 30 years of public service and advocacy on behalf of children, education and the environment, Ticer is still taken aback by some of the accolades she receives.
"Never in my wildest dreams did I expect this," said a surprised Ticer when she was honored last month with the Rev. Ben Lynt Distinguished Service Award. "My contributions are minimal compared to what so many others are doing in our community."
Ticer's daughter, Margaret Ticer Janowsky, was born and raised in Alexandria and continued her mother's passion for environmental causes while living in the Tidewater region following her graduation from college.
Upon her return to Alexandria, she became actively engaged in her mother's political activities as well as those of other City Council and School Board candidates.
She and her husband Laurent own La Bergerie Restaurant in Old Town and are set to open the Del Ray Café later this year. Through their business, the couple supports several nonprofit organizations, including Senior Services of Alexandria.
Margaret is an advocate of breast cancer awareness and both she and her mother support the city's annual Walk to Fight Breast Cancer. She also serves as a volunteer at Maury Elementary and George Washington Middle schools where her two children are students.
"I know firsthand that you don't have to go very far or get very old to realize how much we need others in our lives," said Ticer referring to her rehabilitation from a fall she suffered in late 2010. "We are very lucky to live in a place where people care about each other and act on that caring."
For more information on the Senior Services and the Generation to Generation Gala, visit www.seniorservicesalex.org.