Lorton — Had a crummy day? Tired of losing at "Words with Friends" only to learn they cheat? Sometimes fall asleep in front of your TV? Then, head off to the Workhouse Arts Center to be tickled by "The 25th Annual Putnam County Spelling Bee."
A light-hearted musical, "Bee" quickly takes you into the energy of mostly loveable, but always quirky, adolescents as puberty strikes. Each in their own way is trying to please themselves and their parents.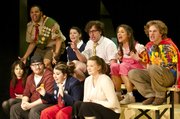 The "Bee" is a comic musical tale chronicling the experience of six adolescents vying to win a spelling championship. This Tony Award winner has a score of 14 songs with music and lyrics by William Finn and a book by Rachel Sheinkin.
Director Joseph Wallen and Music Director Merissa Driscoll have melded together a cast of nine and an unseen four-piece band into a vigorous, animated evening with personality of its own.
Two "adults" give the production weight so that it isn't overly sugary. Mary Payne as the MC and previous Bee winner and Jeffrey Davis as a Vice-Principal with anger issues are enablers of the events that transpire. Davis is droll as he reads words or meanings of words. He effortlessly takes the spotlight the inflexion of his hard-edged voice pronouncing a word like "certainly" in a way to give solace or terror, reading over his glasses with perfect timing.
As the "Bee" loser comforter, Anthony Williams, attired in flat hat and hoodie, gives a delightful presence ala John Travolta danger without an ounce of real menace. His twinkly eyes are beams of light as gives out hugs and juice boxes.
Where and When
"The 25th Annual Putnam County Spelling Bee" presented by The Workhouse Theatre, Workhouse Arts Center, Building W3, 9601 Ox Road, Lorton, VA. 22079. Performances through May 6. Friday and Saturday at 8 p.m., except for March 17th and April 21st. Sunday performances 2 p.m. Tickets: $15-$20. Call 703-584-2900 or visit: http://www.Workho....">www.WorkhouseArts.... Note: Production is considered 'PG' for mild language.
The cast members work nicely as an ensemble. They give each other the spotlight and then work together to dance, sing and even move set pieces. They stay in character when the spotlight is elsewhere giving the aura of their characters even in silence.
With a delicate voice, Amie Camel as a girl waiting for her dad to arrive gives a sense of innocence in physical presence and gestures. Ben Gibson as an overgrown boy who has tics galore and a magic foot to spell words is an unkempt mess. Harrison G. Lee does a fine turn as an awkward young man dealing with the consequences of his maturity arriving at an inconvenient time.
There are some characterizations that become overbearing, overstaying their welcome, but haven't we all been that way.