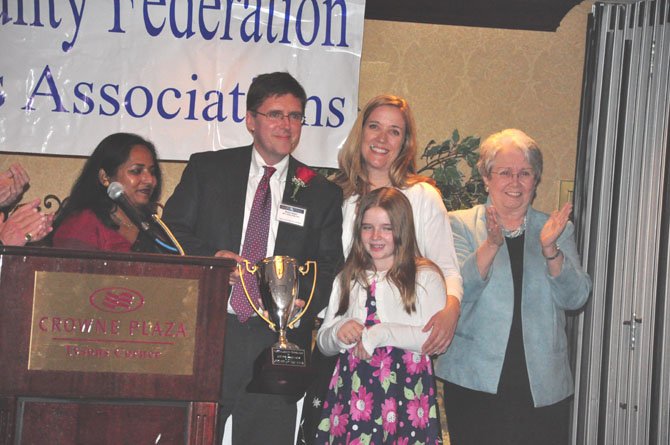 McLean — The Fairfax County Federation of Citizens Associations named their Citizen of the Year Sunday, March 25, recognizing county Planning Commissioner Walter Alcorn for more than a decade of service on the commission.
First appointed in 1996, Alcorn has served as both Parliamentarian and Vice Chairman. He also served as chair for the Tysons Corner Committee since its founding in 2008.
"The future of Northern Virginia depends on whether we get [Tysons Corner] right. The commercial base is here, the tax base is here," said Rep. Gerry Connolly (D-11). "There are legitimate concerns in neighboring Vienna and McLean, particularly in the surrounding neighborhoods. But Walter made sure all those concerns were respected and heard."
Former Board of Supervisors Chair Katherine Hanley called Alcorn's work vital to the county.
"He has done a wonderful job of being part of this community, and being sure he ensures the future of that community," she said. "We need people like Walter to bring us together and move us forward."
Alcorn received the trophy with his wife Kristina and daughter Delia by his side. Exhibiting the humbleness that many officials praised him for, he credited the team around him.
"This is a team effort. Nobody does this alone," he said. "Perhaps the most important thing we do on the Planning Commission is work to create a sense of community. It means more than just a shared interest, it means a place where people meet and there's interaction. It be virtual or face-to-face, it's where people live, work and play and where people raise children, go to work…we're in the business of making communities happen."


THE FEDERATION also recognized Ellie Ashford, Corazon Sandoval Foley and Terry Maynard with citations of merit for their work planning the community around them.
Ashford created the Annandale Blog three years ago, and it has since become a go-to source for news about not only Annandale, but the Mason District.
"She has guts, perseverance and stamina to cover the good, the bad and the ugly of the Mason District," said Mollie Loeffler, who nominated Ashford. "She helped create a dialogue that is very much needed."
Ashford said she wasn't sure what to expect when starting the blog, but that she has gained a greater understanding of the area around her, as well as county processes.
"When I started the Annandale Blog, I had no idea I'd still be doing it now," she said. "Having this recognition now really inspires me to continue.
Foley was recognized for founding the Burke-West Springfield Senior Center Without Walls, which provides affordable activities for more than 450 local seniors. A public-private partnership, the center receives donations and contributions from many local businesses and is staffed by more than 30 volunteers.
"She is a force of nature. There is nothing Cora can't do," said Linda Byrne, who presented Foley with her award.
Foley said she decided to get involved after her retirement, when she found out the Springfield District was the only one without a senior center.
"This meant that seniors were forced to drive to other districts to be part of affordable fitness programs," she said. "The center without walls has provided fitness programs equaling or better than programs in a traditional senior center, at a cost of some 10 percent of the average cost of a traditional senior center."
Maynard currently serves on the board of directors of the Reston Citizens Association, and is a former co-chair of their Reston 2020 Committee. He has authored numerous papers from Reston 2020, and maintains their blog, which discusses development issues.
"He has used his native ability and 30 years of experience as an analyst for the CIA to the direct benefit of Reston," said Tammie Petrine, co-chair of Reston 2020. "Terry's responses to questions and problems are organized, assertive but not off-putting and all of his comments and answers are always followed up by rational logic."
Maynard dedicated his award to his fellow association members.
"This award is for the people of Reston 2020 and the Reston Citizens Association, who have made quality of life in Reston the driving issue of this decade," he said. "It's not about any one particular thing we're looking for, it's about the whole community."
The federation also handed out a special gratitude award to Suzanne Harsel, who served 29 years on the Planning Commission, the longest ever recorded span of continuous service on the commission.
Board of Supervisors Chair Sharon Bulova called Harsel "the constant in my political life" and credited her with many of the changes that happened in the Braddock District when she was supervisor there.
Del. David Bulova (D-37) echoed his mother's sentiments.
"All you have to do is drive around Braddock District to understand the good work and impact she has had," he said. "You could drive around the entire county and see it."
MORE INFORMATION on the Federation of Citizens Associations can be found at www.fairfaxfederation.org.