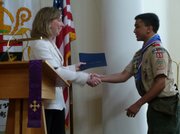 Neil Patil, a senior at Langley High School attained the rank of Eagle Scout. BSA Troop 55 from Great Falls held a court of honor to honor Patil's Eagle Scout rank achievement at the St. Francis Church on March 17. Del. Barbara J. Comstock (R-34) was the guest of honor. Del. Comstock presented Neil with a commendation letter from the Virginia Commonwealth House of Delegates along with a State flag that was flown over the Capitol in Neil's honor.
Garret Pan, BSA Troop 55 Scout Master, presented the Eagle award rank to Patil. Edward Phillips, assistant scout master was the Master of the Ceremony. Sujata Ambardar, Rigg Mohler, Rick Entsminger along with additional Troop 55 Adult leaders, boy scouts and their families attended this event.
Patil's Eagle Scout service project included installation of a 180-feet long 3-split rail fence on the banks of Potomac River at Riverbend Park in Great Falls. This fence helps to control
soil erosion in the Potomac River and increase growth of riparian vegetation. This project also helps to meet the objectives of Virginia Coastal Program of the Department of Environmental
Quality by improving the river's water quality, wildlife habitat, shoreline stability and property values for the local community.