Reston — Before last weekend, Randy Trott, 16, of Springfield didn't know too much about a cappella music.
"I thought it was pretty much like the beginning of [Queen's] 'Bohemian Rhapsody,' a lot of singing soft, slow music," he said. "I had no idea that singing groups could do so much with just their voices, turn them into instruments of their own."
Trott was one of hundreds who stopped by South Lakes High School last weekend, which hosted the annual SingStrong event, a three day a cappella music festival that raised money for the Alzheimer's Association, a charity dedicated to eliminating the disease through research and providing care for those affected by the disease.
Throughout the weekend, performances could be heard from a variety of local and national vocal groups, and interested vocalists could also take part in several coaching sessions taught by vocal coaches.
"I grew up listening to groups like the Beatles, so when I think of incorporating vocal techniques into music, I guess I think solely about making harmonies together," said Brad Jericho, who sings in the Manassas-based band Rose Knot. "But I really didn't have too much experience with the technical side of singing, and I thought this would be a good chance to see what was out there. And I really learned a lot that will help me as a musician and a singer."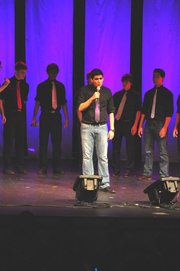 Classes ranged in topic from how to self-produce an album, copyright law, beat boxing and musical arranging.
In addition to classes, the event featured concerts Friday, Saturday and Sunday, where groups from local high schools, and around the country filled the school's auditorium with nothing but their voices.
"I was waiting to enter during a song, and listening through the door, I thought 'it sounds like a full band in there,' I thought this was vocals only," said Emilia Montgomery, 16, of Ashburn. "When we got in there, I couldn't believe the sounds were coming from only voices. I kept looking for a synthesizer, a keyboard, something, but no, it was all them."
Montgomery attended the high school competition Saturday afternoon and the main concert Saturday night, where groups performed pop, jazz, rock, barbershop, reggae tone and more. Besides singing the lyrics, the groups also simulated everything from trumpets, guitar and drums for their performances.
Students from the groups were also given a firsthand chance to learn from the professionals.
"My students are inspired both musically and personally," said Rita Gigliotti, South Lakes choral director and co-producer of SingStrong. "It's hard to believe we get to have this much fun for a great cause."