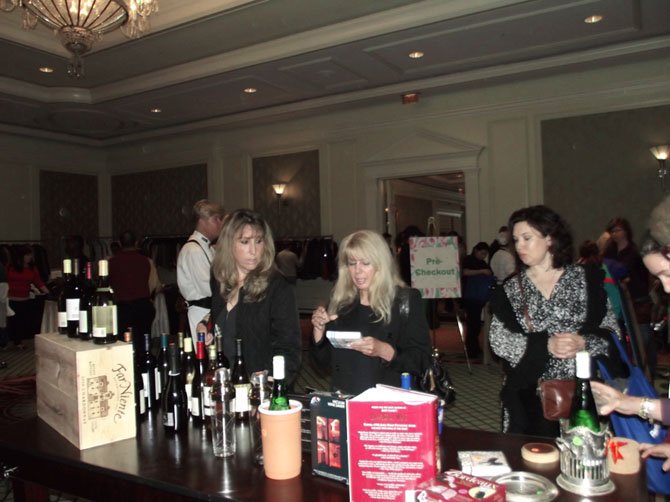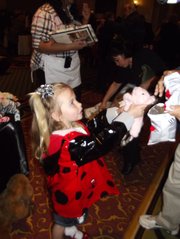 Shoppers queued up early outside the Ritz Carlton ballroom in McLean on Sunday in the hope of finding the ultimate bargain. Men, woman and children rushed into the ballroom to sift through the clothing and household items being billed as "The World's Fanciest Rummage Sale." As advertised, there were low prices on high end goods throughout the elegant ballroom.
"Oh my God, I can't believe it! This is mine! Yea," exclaimed Reston shopper Anne Severn as she clutched a $50 wedding dress she hopes to wear in September when she weds her longtime boyfriend.
Steals and deals were the theme of the day at the second annual rummage sale. The sale is hosted by The Ritz Carlton to benefit the Boys and Girls Club of Greater Washington.
" I am mega impressed with this," said Pandit Wright, the President and CEO, of the Boys and Girls Club of Great Washington. "This is a huge joint effort and an amazing effort of the Fairfax County board."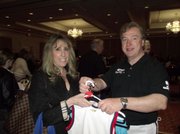 According to Wright, the funds raised from the sale - last year the sale raised $20,000 - will go directly to the local clubs. "The money goes straight into programs like sending a kid to camp. It really creates new opportunities for these kids," Wright said.
The tables of designer clothing and rows of sporting goods are gone in a few hours but it takes four to five months for the items to be collected and prepared for the sale.
Helen Kruger, the director of Meetings and Special Events for The Ritz Carlton, is the driving force behind the sale. When she joined the board of directors for the Boys and Girls club of the Fairfax County Region less than two years ago, she knew it was a community organization she wanted to devote herself to.
"We created this event as an anchor activity. This is an outlet for our ladies and gentleman at The Ritz Carlton to get involved in the community," said Kruger.
High-end items, such as clothing, sporting equipment and furniture, are donated from private citizens to the event. Many of the Ritz clients and vendors also donate goods and services to ensure the event lives up to its name.
During the rummage sale, The Palm Restaurant was giving out free lobster salad, DJs were on hand to keep the music flowing, free sodas and coffee and nibbles were available to shoppers at no additional charge.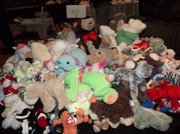 Sydney Parker, of Herndon, came with her mom to the sale. "This is pretty cool. I like that there is stuff here that I can get myself, with my money. There's actually a lot of stuff here. I haven't seen everything yet," the young Parker said.
Her mother, Stephanie Parker, said, "This is a really great fundraising idea. It was like a really fun garage sale. Only, it's not like any garage sale I've ever been to. There were Prada shoes and fur coats; you don't normally see that at your typical garage sale."
Kruger knows how important it is to have quality items at the rummage sale and says the people who donate the goods give generously as a way of giving back to the community that has been so good to them.
"For people who live in Fairfax County, people conveniently forget, because the incomes are so high, that there are people here in need. There are kids next door in the middle of gangland. Here at The Ritz we are surrounded by Fendi and Gucci and it's easy to forget there is a real need in our neighborhood. This is all about us, our employees and vendors, getting involved to do something locally. We know we will have a positive impact on at least one kid," said Kruger.


DOING GOOD can taste good, too. Shari Bolouri from Great Falls had as much fun evaluating the selection of donated wine as she did going through the clothing racks. "This is really fun. There are so many people here. It's really exciting," said Bolouri.
Roger Grillo, of McLean, wasn't really thrilled about coming to the sale with his wife until he found a set of Calloway golf clubs in the bag for $25. "I wasn't looking for anything and I guess I don't really need these but at this price, it wouldn't have been right to pass them up," said Grillo.
Kruger applauded that attitude. "If everybody does a little we can change a lot," Kruger said.
Anything not sold during the rummage sale is set aside for the kids at The Boys and Girls Club who will hold their own rummage sale later in the year. Kruger is already planning how to make the event bigger and better next year.