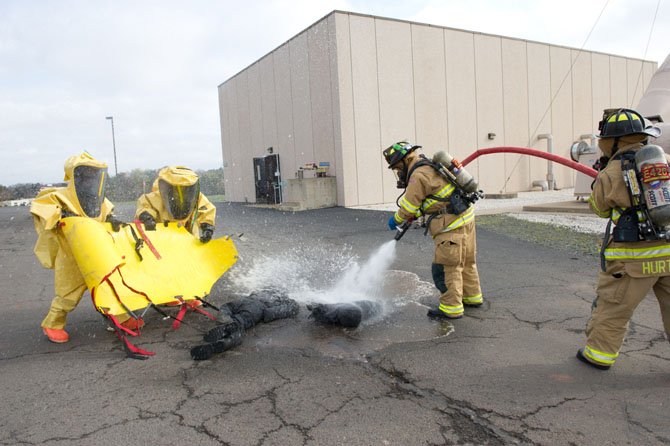 From March 19-21, the Fairfax County government held a three-day emergency exercise called Operation: Enduring Collaboration during which county agencies and partners worked through worst-case scenarios relating to a major tornado outbreak in Fairfax County. The objective of the exercise was to sharpen responses, coordination and planning for emergencies and to better understand the potential power of tornadoes.
On March 20, the Fairfax County Hazardous Materials Response Team participated in the tornado exercise. The scenario was that the March 19 tornado destroyed important signage at a sewage treatment building at the Upper Occoquan Sewage Authority. A truck delivering chemicals to the plant put them in the wrong tank, causing a chemical reaction that created a cloud that injured two people. The fire department was called and the Hazmat team was deployed.
Throughout the day, the 50-person Hazmat team ran through the exercise, stopping periodically to debrief and review lessons learned, the objective being to review and reinforce procedures and protocols, "Preparedness is paramount to success," said Battalion Chief Craig Buckley, chief of the Hazardous Materials Response Team.
Station 40 at Legato Road is the main Hazmat rescue squad, supplemented by Station 1 in McLean, Station 11 Penn Daw in Alexandria, Station 19 in Lorton and Station 26 on Edsall Road. The entire Fairfax County Fire and Rescue Department Hazmat team encompasses over 230 people; 50 people were involved in the March 20 exercise.
Photo Gallery
Hazmat
Click Photo for Flash